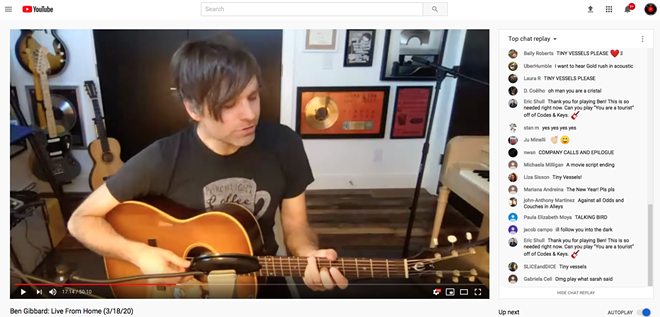 C
elebrities: They're just like us!
Along with everyone else, famous people are self-isolating at home, and some of them have taken to social media to alleviate the stress of the outside world. We don't need to tell you that events everywhere are canceled, so a few big-time musicians are putting on personal concerts for their fans and followers, and a lot of them —
save for that cringe-inducing, star-studded cover of "Imagine" that
was going around yesterday
— are actually pretty good.
So turn down the lights, turn up the volume, open a bottle of wine and experience a concert in the comfort of your living room.
Wilco
The long-running Chicago band is one of the great working live acts, and the ticket-selling site Songkick just uploaded a recent Wilco performance to their YouTube channel. It features Jeff Tweedy and company playing for an intimate audience
in an old gymnasium, sticking
mostly to songs from their 2019 album
Ode to Joy
but with a classic or two thrown in. You can watch the full set
here
. For now, Wilco's scheduled Spokane gig with Sleater-Kinner on
Aug. 6
is still on, so hang on to those tickets.

Neil Young

2020 was supposed to be a big touring year for Neil Young and his band Crazy Horse, but the singer-songwriter has postponed any plans in the wake of coronavirus. In the interim, he's taken to the internet and announced an upcoming series of one-man shows that he's calling "Fireside Sessions." He's truly the FDR of the music world. Based on photos Young posted earlier today, he'll be surrounded by his dogs and filmed by his wife, Daryl Hannah. Keep an eye out on Young's
personal website
.
Rufus Wainwright

The angelic-voiced singer-songwriter has been active on
Instagram
for a while, posting weekly musical performances and musings. He's back with daily performances
under the hashtag #MusicalEverydays, lounging in a robe at the piano in his L.A. living room and taking on
songs like "Gray Gardens" and "The Art Teacher." Give him a follow.
Christine and the Queens

This French electro-pop act has gotten a lot of international attention in the last couple years, and they're taking advantage of the fact that they're currently isolating inside a Parisian recording studio. On their
Instagram account
, they plan to post a new performance every night until things blow over. "I'll find a way to deal with ennui," bandleader Heloise Letissier wrote. "Guests and weird concepts included."
Third Man Records
Jack White's record label has announced its "Public Access" live stream series, which will feature a new performance from its stable of artists every day at noon central time. "Great things come out of restrictions," the label wrote in a press release. "Artists being restricted from their audiences, though? We're not sure what greatness can come from that." It kicked off today with pedal-steel player Luke Schneider; keep updated through Third Man's
Facebook page
.
Chris Martin & John Legend
The World Health Organization and Global Citizen have launched the so-called #TogetherAtHome concert series, with various big-name musicians personally recording intimate sessions via live-stream. One of the participants is Coldplay frontman Chris Martin, who
took song requests from his Instagram followers for a fly-on-the-wall set that included "Yellow" and "Sky Full of Stars."
You can see the whole thing
here
. John Legend followed suit,
with a nearly hour-long stream that had him covering Stevie Wonder's "Love's in Need of Love Today" and playing originals like "Stay with You." And yes, Chrissy Teigen makes a cameo.

Ben Gibbard
Already holed up inside his home studio, Death Cab for Cutie's frontman has been broadcasting live performances every day on his band's
YouTube channel
. So far, he's busted out Death Cab songs, Postal Service tracks like "Such Great Heights" and even "Me & Magdalena," a song he wrote for the Monkees.
Yungblud

Although he's way more famous in the U.K. than in the States, up-and-coming pop-punk star Yungblud might have found a whole new audience in the midst of a global pandemic. He decided to turn a recent tour cancellation into an
online-only event
that he live-streamed on YouTube, an hour-long variety show that includes live performances as well as hosted interview segments with Bella Thorne and Machine Gun Kelly. It's like old-school MTV meets public-access programming.