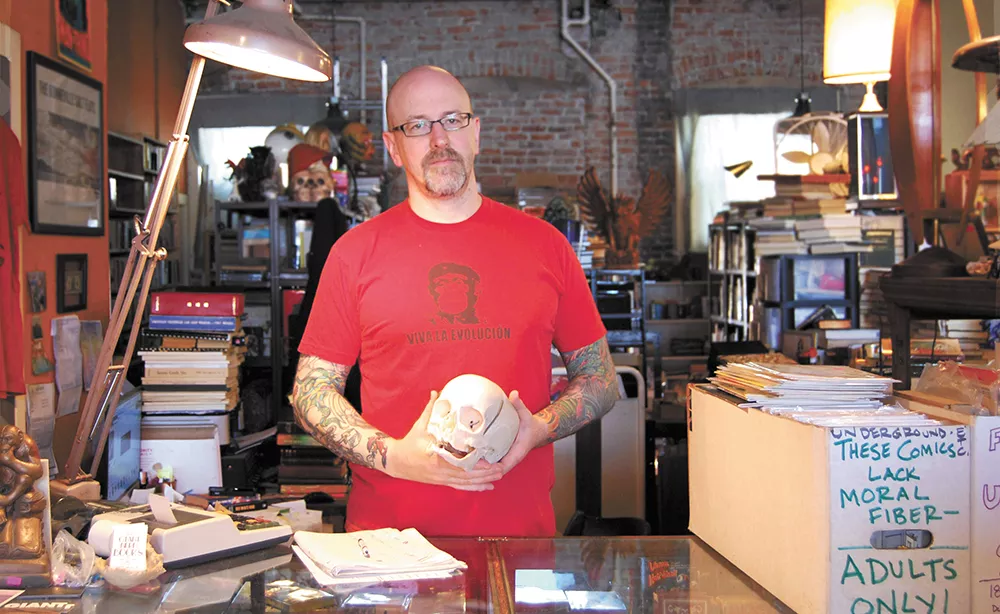 Giant Nerd Books isn't your mom's bookstore.
Walking through the door, the rich, musty scent of the piles upon piles of books hits like a ton of bricks. But there's something else lingering in the air — something intriguing, dark and mysterious. It's the overwhelming sense of strangeness that creeps throughout the shop.
By the front window, Happy the Alligator shows off his "award-winning smile." Skulls line some of the shelves and a vintage embalmer sits beside the front counter, a recent addition from a random walk-in.
Nathan Huston's undeniably odd shop has made a name for itself by being the place to go when in need of something a bit peculiar. His project began when he was a boy, "back when dinosaurs walked the earth," he says. Frequent trips to local yard sales with his father led to the formation of his impressive collection. The trading of a few old books and comics turned into the carefully calculated exchange and trade of the oddities he now treasures and the start of Giant Nerd Books at 709 N. Monroe St.
Previously located inside of Time Bomb Collectibles, Huston's next-door storefront has been open for a few years. The usual patrons of his shop are younger, college-aged kids he says are disillusioned with mainstream bookstores. Once they enter the shop, the kids become starry-eyed. "They turn into Japanese cartoon characters," says Huston.
Giant Nerd Books isn't just an oasis of oddities for Spokane's hip crowd. Along with neighbors Time Bomb and Ruins, as well as downtown businesses Boo Radley's and Atticus, Huston's endeavors are a part of what he calls our city's latest "Weirdo Renaissance."
Huston's only goal for his business is to eliminate the belief that Spokane is a creative black hole. "If somebody gets the idea that, 'Oh, I can be a weirdo and run a business and I don't have to wear a suit and tie if I don't want to,' then that's great. Mostly I just want to inspire people to stick around."