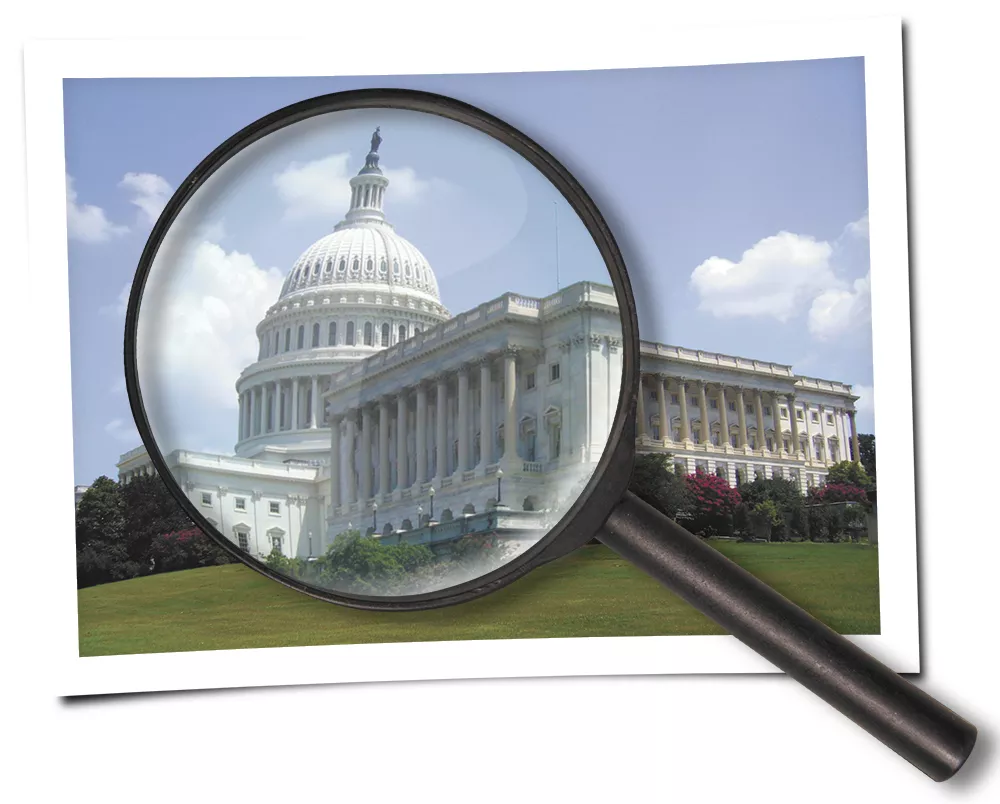 IDAHO
Expect a short session in Boise this year as lawmakers prepare for the primaries in May. Politics, not policy, will dominate the Legislature, says Rep. John Rusche (D-Lewiston). "The very conservative are battling the conservative," he says. "The legislative session is just going to be fertile ground to have campaign discussions in the Republican party." That said, it's unlikely lawmakers will entertain serious debates about big issues like Medicaid expansion or infrastructure improvements, says Sen. Dan Schmidt (D-Moscow).
Instead, he anticipates "showmanship politics" among Tea Party Republicans attempting to expose their more moderate party members. "In terms of actually getting work done," he says. "I'm not sure that's going to happen."
In the months ahead, here are the issues Idaho lawmakers likely will take up:
Education
The top priority facing the Idaho legislature likely will be education funding. In his State of the State speech on Monday, Gov. Butch Otter outlined his five-year plan for overhauling Idaho's beleaguered public education system, which sustained deep funding cuts during the recession.
Otter's $350 million education plan would phase in 20 improvements recommended by an education task force last August, including increased teacher salaries, investing in classroom technology and reversing cuts to K-12 education.
"We're more than $100 million short of K-12 and $50 million short of higher education funding than in 2008," says Rusche. "The state isn't holding up its share of the bargain."
It's also likely that Idaho's Common Core standards will face a legislative challenge this year. Common Core, a new set of standards for math and English language arts adopted by the Legislature three years ago, has come under renewed scrutiny from Tea Party conservatives worried about data collection and loss of local control of curricula and testing.
"The standardization of the curriculum across the United States will lead to a lack of ideas," says Sen. Steve Vick (R-Dalton Gardens). "We're better off just setting our own curriculum and our own standards."
Health Care
Last year, after intense debate, Idaho approved a state-run health insurance exchange. This year, far-right conservatives in the Legislature plan to fight to repeal the exchange or scale back the implementation of the Affordable Care Act in the state. Sen. Russ Fulcher (R-Meridian), Otter's Tea Party challenger in the primary, has promised as much.
With election season on the horizon, Rusche says it's unlikely the Legislature will seriously debate Medicaid expansion, but lawmakers from both parties will attempt to bring it up.
"If you don't have the discussion, there's no chance it will pass," says Rusche, a retired physician and supporter of the health coverage expansion. On the opposite side of the aisle, Rep. Vito Barbieri (R-Dalton Gardens) says Tea Party conservatives will "lay the groundwork" this year to keep their more moderate party members from "supporting the Democrat agenda" in an off year.
Wages
Idaho holds the ignominious distinction of having the lowest average wages, lowest per-capita income and highest share of minimum wage workers of any state in the country. Adding insult to injury, according to a new state report, pay for public employees in Idaho has tumbled to about 19 percent below market rates. Now for the first time in six years, a joint legislative committee on state employee wages will reconvene to address the issue of raises for state workers. "Fundamentally, if you want someone working for you who has skills and provides good services, you should be expected to pay for it, whether you're the government or the private sector," says Schmidt, a committee member.
WASHINGTON
As lawmakers head to Olympia next week, they can breathe a sigh of relief.
"Going in the session, it's the first time in over five years we're not going into a crisis of some kind," says Rep. Timm Ormsby (D-Spokane). "The revenue has stabled out and the economy has started to pick up — but it's not picking up for everything." At the height of the recession, the state was forced to slash funding for social safety net, education and environmental programs. This year, Washington actually has a little bit of extra cash in its coffers.
Here are the priorities at the top of our local legislators' agendas:
Transportation
Negotiations on a multibillion-dollar transportation spending package are expected to resume when Washington lawmakers return to Olympia. The $10 billion deal, in its current form, would include a hefty gas tax increase — more than 10 cents per gallon — and enough money to connect the long-planned North-South Freeway in Spokane to Interstate 90.
In exchange for a gas tax hike, Republican lawmakers are pushing for transportation policy reforms to reduce the costs of transportation construction in Washington. Proposed reforms include eliminating the sales tax for transportation projects, holding the state Department of Transportation accountable for expensive errors, and expediting the state's approval process.
"When we saw that bridge fall in Skagit County, we saw how quickly that can go up," says Rep. Kevin Parker (R-Spokane), referring to the Skagit River bridge collapse in May. "Why can't we operate that quickly under normal circumstances?"
Education
Education commanded much of the Legislature's attention last year as lawmakers grappled with a state Supreme Court ruling to dramatically increase school funding. This year, expect talks on education reform to continue. Sen. Andy Billig (D-Spokane) is circulating a bill he hopes will close the opportunity gap between low-income and higher-income students: he's proposing a three-year pilot program that would extend the school year for 20 days in 10 high-poverty schools and study the outcomes. "One of the significant causes for that opportunity gap is summer learning loss for low-income kids," he says. "It's never been studied quite this way, and we'll know whether it was worth the investment and the money to do this and expand it."
For Sen. Michael Baumgartner (R-Spokane), higher education, particularly its cost, is a priority. Baumgartner is working on a measure that would dedicate a sustainable revenue stream to Washington universities. (He's eyeing funds from recreational marijuana sales.) "When I went to [Washington State University], it cost more than $3,000 a year. Now it costs more than $10,000," he says. "We need to return to higher education funding at a much higher level than what we have now."
Health Care
Rep. Marcus Riccelli (D-Spokane), the newly appointed vice chair of the House Health Care and Wellness Committee, will ask the state to consider implementing the Federal Basic Health Program Option, an opportunity under the Affordable Care Act that would allow the state to provide low-cost health care coverage to Washington residents who don't qualify for Medicaid but can't afford insurance on the exchange.
Spearheaded by U.S. Sen. Maria Cantwell, the program is modeled after Washington state's Basic Health Plan for middle- and low-income residents. The optional program uses federal tax subsidy dollars to offer coverage for people with incomes between 139 and 200 percent of the federal poverty level. The federal government is still hammering out the regulatory details. Riccelli says at least 100,000 people in Washington who are ineligible for Medicaid would qualify for subsidized coverage through this program. "If we pool these folks ... we increase the buying power and can drive down costs," he says. "It really just leverages the state's purchasing power to get low-cost premiums." ♦
---
Bills, Bills and more Bills
Rep. Kevin Parker (R-Spokane) is working on legislation that would extend the age in which children enrolled in foster care can receive services from 18 to 21. He's also hoping to see movement on three human trafficking bills he first introduced last year. Sen. Andy Billig (D-Spokane) has drafted a campaign finance bill requiring nonprofit organizations that spend significantly in elections or statewide ballot measures to disclose their contributors. Rep. Marcus Riccelli (D-Spokane) is working on a school nutrition bill that would allow schools to apply for competitive grants to purchase kitchen equipment for cooking healthier meals. He's also developing legislation aimed at reducing the delay in screenings for newborns. At the request of the Attorney General's office, Sen. Mike Padden (R-Spokane Valley) has pre-filed a bill that would require sexually violent predators confined at the Special Commitment Center to participate in an interview and examination by the state. Padden is also proposing a bill strengthening the state's penalties against drunk drivers.