FAY HULIHAN
I was born and raised in Canada, and I lived in the Rocky Mountains, so there were a lot of outdoor activities. I've been fly fishing my whole life. I would say probably along those same lines. There's a lot of things to do outdoors-wise. Fishing, camping.
BLAISE BARSHAW
I'm from Portland and moved here for the livability. I got priced out of Portland. I just moved here in October. It's cool. It's like Portland 20 years ago. But the best part is the beautiful scenery and the nice people. They talk to you. That doesn't happen in Portland anymore.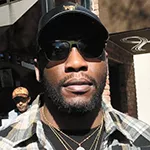 JONATHAN WILLIAMS
Ah the perfect four seasons, brother. Hell yeah. We are blessed to have that here.
What's your favorite season?
Fall. All the leaves are falling, it's pretty, and there's good old football season. I used to play with the Spokane Shock. I recently retired last year with the Saskatchewan Roughriders. I always wanted to come back here to retire, and I'm doing so.
CRYSTAL WILSON
Enjoying all of the seasons.
Which season is your favorite?
Summer. All of the sunshine and vitamin D. We go to the lake, Deer Lake. I have family that lives out there and they have a boat slip. The people here are great, too. We're lucky to have different varieties of people.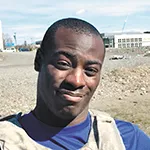 JOHN BLAIR
I like camping, so that's probably the best part.
Do you have a favorite camping spot?
Mount Rainier. I go mainly in the summer, sometimes spring. I don't like the cold too much. I go with friends and my National Guard unit. It's really fun.
INTERVIEWS BY MITCH RYALS, 3/19/2018, DOWNTOWN Spokane