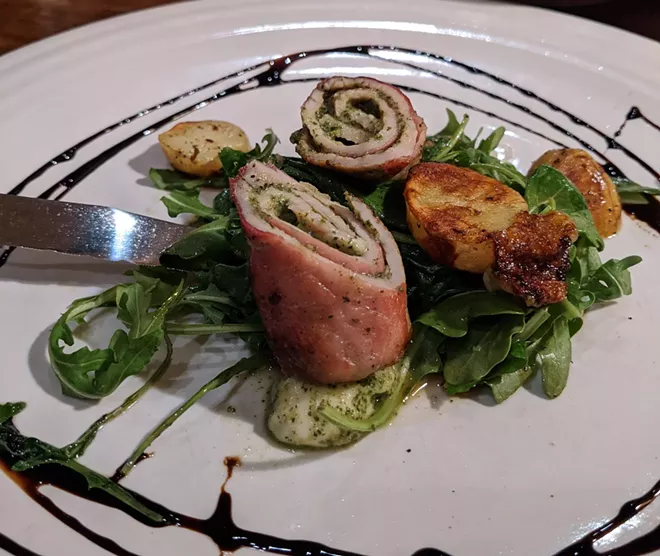 F
or all the times I've visited the Latah Valley
area to enjoy breakfast at Chaps, I'd never made it across the parking lot to Latah Bistro, the upscale dinner spot that specializes in farm-to-table cuisine. But that changed earlier this week, when my wife and I made the drive over to check out their
Inlander Restaurant Week menu
.
Pretty much every seat in the cozy spot was filled on an otherwise sleepy Monday evening, which, it turns out, might be an ideal time to check the place out: Bottles of wine are half off on Monday nights. (Can't polish off a whole bottle during your visit? No problem — you can take the rest of it home with you.)
For the first course, we had our choice between two salads (I was hoping to try the
grilled octopus salad
, but it was unavailable when I was there), and I opted for the
bistro salad
. It was a simple but delicious mix of greens, gorgonzola and almonds, and the vinaigrette dressing and generous sprinkling of figs provided a welcome sweetness.
On to the main course. I ordered the
pork saltimbocca
— any time you put a pork-heavy dish on your menu, I'm in — and the prosciutto had a rich, salty flavor that was tempered by the fingerling potatoes. Dip each bite into the jus drizzle around the rim of the plate for a little extra bite. Even better was the
braised oxtail
, a healthy portion that warmed us up on a chilly night. The mixture of tender meat and stewed tomatoes was good enough, but it was the house-made gnocchi that ended up being the star of the dish, chewy and buttery and melt-in-your-mouth delicious.
For dessert, we opted for the
ricotta beignets
and the
lemon tart
. The beignets were fluffy and warm and come with a rich chocolate fondue dipping sauce that isn't too sweet. The lemon tart, plated with a handful of fresh blackberries and a pillow of Chantilly cream, was even better: Lemon-heavy desserts too often overcompensate on the sugar, but this one had just the right amount of tartness. I would have easily had a second helping if it were offered.
This is one of the reasons I look forward to Restaurant Week every year: I almost always discover a new favorite place, and I'll definitely be back to check out Latah Bistro again.