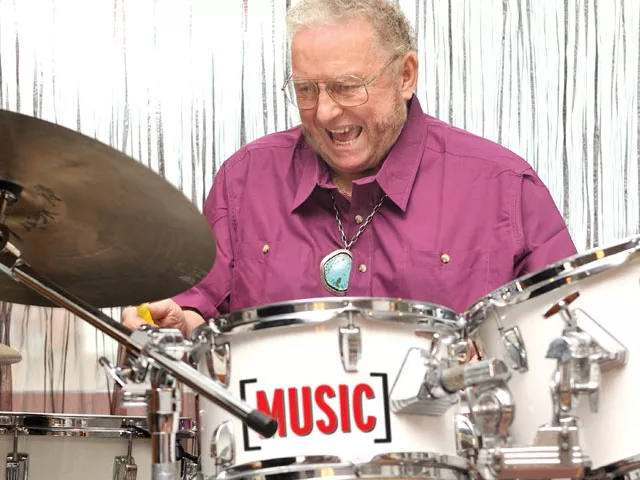 Edwin Shaughnessy may have kept on playing piano if a debt owed to his father had been paid in cash instead of a drum kit. It was a twist of fate that would take the teenage Shaughnessy out of Jersey and around the world, appearing with artists like Jimi Hendrix and B.B. King, and it would land him a decades-long gig on the Tonight Show with Johnny Carson.
When Shaughnessy takes to the drums, he almost looks as though he is dancing. He doesn't scowl or grimace; instead he bears an almost placid smile as he bobs along to the beats. Over the years, he has incorporated East Indian elements into his drumming, dropping his sticks in the middle of a solo and taking to his kit with his hands while speaking syllables unique to Eastern music, bringing a new flavor to his genre.
Shaughnessy, now 82, has recorded over 500 albums, some with the likes of Count Basie and Billie Holiday and is regarded as one of the kings of big band drumming. But despite his accomplishments and reputation, he's hesitant to say music is an escape — not in that way people use drugs to run away from their problems. It's a positive force that you can sense as he talks about music in an almost giddy way. But still, music gave him solace from his home life, especially when it came to his father.
"He was a decent man, but he was an alcoholic," Shaughnessy says matter of factly.
The basement, where the drums were kept, was where Shaughnessy retreated for hours on end to play. It was therapeutic for him, a ritual that he says he needs.
"I don't know what I'd do if I didn't have practicing every day," he says.
When he was in that basement practicing, jazz was his genre of choice — it was the 1940s and jazz was then what rock 'n' roll is now, he says.
Like any kid who was into music, he went to clubs for shows, and that's where his drumming got a boost — specifically from now-famous drummer Louie Bellson.
"I was a poor little kid from New Jersey there to see him in a theater," says Shaughnessy. He asked Bellson for an autograph and apparently struck a chord with the man. Bellson went on to offer Shaughnessy free hour-long lessons every time he was playing in the area. Shaughnessy says that was what helped him along — and it inspired him to set up a sense of camaraderie with other musicians.
"That's one of the reasons I want to teach and pass information along because people helped me so much," Shaughnessy says.
After working as a freelance drummer in the New York jazz scene and as a studio musician (while also maintaining a job with a telephone company), Shaughnessy started landing more nightclub gigs. He was eventually offered the spot with Johnny Carson — and at the time, Shaughnessy wasn't interested.
"I didn't want to take the job because I liked my life of being a freelancer," he says.
In his time as a studio musician, he had encountered many jaded musicians that only played for the cash. He assumed the Carson gig would be the same way, but instead, he met the band he would go on to play more than 5,000 shows with.
"It was a fun band," Shaughnessy says. "I miss the camaraderie of it."
At 82, his schedule is still booked with appearances and clinics. But today, teaching is what Shaughnessy devotes much of himself to. He gives clinics across the country, for musicians and non-musicians alike, giving people the tools they need to further their personal advancement in music.
Today it's as if he's returning the favors given to him growing up. Like he's making payments on a loan that changed his life.

Ed Shaughnessy will be performing with Lionel Hampton Big Band as part of the Lionel Hampton Jazz Festival • Sat, Feb. 26 at 8:30 pm • University of Idaho Kibbie Dome • $15-$39 for Friday and Saturday tickets • uidaho.edu/jazzfest • 208-885-7212