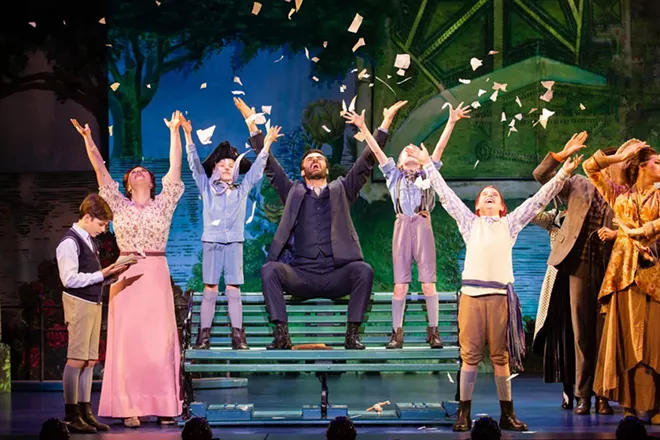 F
ans of Peter Pan
or anyone who doesn't want to grow up will enjoy
Finding Neverland
at the First Interstate Center for the Arts, part of WestCoast Entertainment's Best of Broadway series. Based on the film of the same name,
Finding Neverland
tells the
story of J.M. Barrie, the creator of
Peter Pan
and how Sylvia Llewelyn Davies and her four sons help him find his inner child.
To say that this show is cute is an understatement. The child actors who play the Llewelyn Davies boys (Michael, George, Jack and, of course, Peter), hold their own next to their adult counterparts. I found the relationship between J.M. Barrie and Peter to be more compelling than the romance between J.M. and Sylvia. Don't get me wrong, I love a good musical romance, but it didn't tug on my heart strings as much.
Jeff Sullivan and Ruby Gibbs give solid performances as J.M. and Sylvia, with powerful vocals that hold the audience's attention. The ensemble makes the musical numbers come to life (think dancing clocks) and supports the lead actors well. Musical numbers worth noting are "We Own the Night," "Stronger," "Neverland" and "Something About This Night."
While there is definitely an overall cuteness factor, I wasn't necessarily blown away by this show. It might have been that I did not know the storyline super well before seeing the stage musical, but I didn't get sucked into the story. There are some jokes sprinkled in aimed at adults that seriously made me laugh, though, and are not too hokey.
Needless to say, if you love
Peter Pan
and want to see more of the story behind its' creation, this is the show for you. Catch it while it's still in Spokane through Sunday, Nov. 18.