Before Bobby Whittaker begins telling his story, he starts with some famous words of wisdom from his mountaineer father:
"There are no bad people, just uneducated people."
What he means is, with a little convincing you can make a lot of friends. Whittaker might know this better than anyone in northeast Washington after spending years establishing an approximately $1 million, 28-mile multiuse trail from Republic, Washington, to the Canadian border, known as the Ferry County Rail Trail.
The manic, goofball charm that Whittaker radiates might also help somewhat. He's tall, loud, hard to miss and well known around Republic.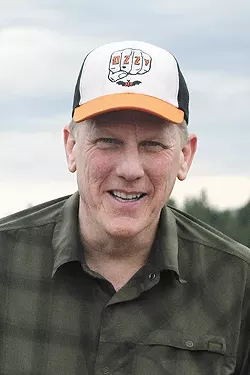 This weekend, Whittaker and his trail partners are hosting Get Out Fest, a celebration of "recreation and culture" in Ferry County — a county rich with public land in the Colville National Forest. It's the culmination of years of hard work, fundraising, politicking and persuading the people of Ferry County about the possibilities a pedestrian and bike trail could bring to their quality of life.
"I'm in a tax bracket that can't afford a lot of waterfront, but we're walking along five miles of waterfront that's yours as much as it is mine," Whittaker says during a weekend jaunt down the old railroad trestle across Curlew Lake. "It's free. There's no parking pass or ticket required."
The scenery and geography is an untapped asset the county has yet to fully capitalize on, Whittaker says. The hope is that, with the help of Get Out Fest, people recognize the value of public land and take responsibility for its conservation, he says.
"It's a gateway drug," he jokes.
The festival, June 27-30, includes tent and RV camping, a timed half-marathon and 5K on Saturday, road and mountain biking, hiking and kayaking, not to mention a beer garden and performance from Seattle band the Cave Singers.
But the real star of the festival is the Ferry County Rail Trail.
The trail travels north from Republic for 28 miles, alongside scenic views of Curlew Lake and Kettle River, past local resorts, through an old railroad tunnel, paralleling a state highway, connecting school districts and four towns, all before reaching the Canadian border.
Not everyone in Ferry County has been interested in the project. For some, the trail has been a flashpoint over what looks like a change in the culture and character of the blue-collar lifestyle of rural northeast Washington.
Whittaker doesn't want to see Ferry County changed into something it's not, either. But he wants to do something positive for the community, and he says he wants to see the region succeed.
RURAL POLITICS
Bobbi Weller has lived most of her life in Republic. At 76, she has fond memories of the trains coming through town, carrying timber and ore, making pit stops so the crew could grab a bite and a drink at the local cafe.
Her home just outside Republic is the idyllic vision of rural life: community-minded neighbors, down-to-earth people, picture perfect lakefront property, chirping birds, etc. Nothing about that has changed for her since she moved to Ferry County 54 years ago
As industry declined in Ferry County over the years, Weller wondered what would happen to the railroad tracks that bisected her 38 acres on Curlew Lake? She was told that there was no need to worry. It would revert back to private land if that was the case.
But Whittaker had something else in mind. In 2006, he saw in the local paper that the rail line was going away. He bought property in Ferry County in 1999 and wanted to give back to the community. There have been more than a dozen rail lines in Washington state, in urban and rural areas, transformed into bike and pedestrian trails, and Whittaker wanted Ferry County to get the same treatment. In 2008, Whittaker established the Ferry County Rail Trail Partners, which he's the president of, to get the trail started.
"I fought it. I didn't want a trail," Weller says. "I think all of the adjacent landowners felt like it was an invasion. We didn't want strangers going through our property."
The lifestyle in Ferry County is such that you don't need to worry about property theft, she says. You can leave things out in your property without fear of them being stolen, she says.
Weller later had a change of heart after working with the trail advocates and now serves as a director of the Rail Trail Partners. But at the time, she says she didn't want to see the community she loved change. A lot of people in the county felt the same way.
"It's the urban versus the rural," says Ferry County Commissioner Nathan Davis, a third-generation resident of Ferry County, now in his fifth year on the board of commissioners. "When people live together and work together with a lot of pavement around them, their thinking changes. Their values change. It's a whole different value structure and lifestyle."
The debate over the trail is one that some are reluctant — sometimes seemingly embarrassed — to even discuss.
"It got pretty nasty," Davis says. "It's probably the most divisive thing in our county. You have politics in our county anyway, and a lot of the division goes along party lines."
With the rail leaving anyway, opponents of the trail who sat on the county commission began to argue in favor of a motorized trail. But trail advocates didn't want their kids walking alongside ATVs.
The two opposing viewpoints began to conflate the issues. The nonmotorized trail advocates got lumped in with bicyclists, environmentalists, urban policy, progressive politics and liberal ideology in a county that generally votes for conservative politics and largely favored Donald Trump in the 2016 presidential election.
"The trail would have been done five years ago if we didn't have to deal with the politics of it," Whittaker says.
"It didn't matter how minor it was. It was a big deal," Davis says. "When anything gets to that level, it just breaks down. The stress on that level was tremendous."
But advocates for the bike and pedestrian trail got a big win in 2009 when a Ferry County advisory ballot measure asked local voters whether they would prefer motorized or nonmotorized use. About 61 percent of voters favored nonmotorized use, and construction began in 2013.
BUILT ON GOLD
The white settlers who established towns like Republic, Malo and Curlew built them around resource extraction — gold mining and lumber — which has historically dominated Ferry County's economy.
Today, not so much.
While the rest of the state has rejuvenated, even flourished, since the 2008 recession, northeast Washington has lagged.
The economy of northeast Washington has been stagnant for decades. Ferry County ranked dead last in per capita personal income ($32,876) between 2011 and 2016, according to the Washington Employment Security Department's most recent data. The unemployment rate was at 13 percent as of April. The region hasn't seen widespread economic success since the '80s, when environmental regulations complicated mining and logging in the area.
On top of this, private property accounts for less than 18 percent of land in Ferry County, making any meaningful property tax collection unrealistic, Commissioner Davis says.
"We're a broke county and we don't have a parks department," Whittaker says. "It's all been grants and fundraising from advocates and trail groups."
Recently, the Rail Trail Partners are on track to fund $421,000 for the final phase of the trail. The boost would provide them with 90 percent matching funds, as part of a new policy from the Washington State Recreation and Conservation Office for "underserved communities."
Securing the funding has been one of the most challenging obstacles for the trail, says Keith Bell, the group's vice president and a former mining geologist. Most matching funds have come from community members and allies of the Ferry County Rail Trail Partners, Bell says, such as Stotts Construction and Whittaker's longtime friend Eddie Vedder of Pearl Jam.
"It has not cost the county a dime and it will not cost the county a dime going forward because the Rail Trail Partners are picking up the tab for everything, including the county's long-term liabilities for the trail," such as washouts and other damages, Bell says.
Despite the creative funding, Whittaker doesn't see the rail trail as the county's salvation, but he sees it as a good "side hustle."
"I don't play the stock market, but if I did, [I'd] want to diversify my portfolio," he says.
Tourism and recreation could do just that, he says. The idea being that a "world-class" trail from northeast Washington to Canada could invite all manner of bicyclists, hikers and other tourists, who come to town and spend money.
"I think it's a great opportunity and recreation should be one of the main components to our economy," says Emily Burt, co-founder of Get Out Fest and co-owner of Republic Brewing, a cozy local joint with live music on Saturday nights and a hip vibe.
However, Burt, who grew up in Ferry County and who volunteers with the Rail Trail Partners, says there is some concern whether or not the opportunity, profitable or not, is the right thing for a small town that is still pretty inexpensive to live in.
"I feel like there's a justifiable fear that recreation will bring gentrification," she says.
Winthrop, located a couple hours west of Republic on Highway 20, was also a hard-working mining town. Now it's a frontier-themed tourist attraction.
"There are some communities that are still built for the people there, and communities made for people just passing through," Burt says. "Winthrop has made that shift."
MOUNTAINS AND MUSIC
When Whittaker thinks of tourist towns, he thinks of Mount Everest.
In the '60s, his father, Jim Whittaker, became the first American to summit the mountain. But today, the mountain has become something different, Whittaker says.
"The initial push to go to Everest was based in adventure and discovery. Now, it's sort of keeping up with the Joneses," he says. "The piles of garbage up there are incredible."
He sees something similar happening in tourist towns: They become a sort of a mockery of their former selves.
"There's nothing more punk rock than giving back to the community."

tweet this
Originally from Seattle, Whittaker made a career in the music industry as a tour manager for bands like Mudhoney and R.E.M. The festivals and events he managed were messy and unhealthy for the environment. Now, he says he wants to use his skills for good.
He credits his father, along with his father's good friend Sen. Bobby Kennedy (his namesake), for inspiring his sense of conservation.
He also credits punk rock.
"There's nothing more punk rock than giving back to the community," he says. "This is represented in the trail... only I wear cleaner clothes than I used to. And I have less zits.
"The saying is that 'every trail connects.' I've made so many cool connections I wouldn't have made if I did not get into this."
It all comes back to education. And it's been a learning experience for Whittaker, too.
It's taught him how to meet different people, find common ground on issues and work together on solutions that everyone can benefit from, he says. After the rail trail, Whittaker's next step is to look at recreation opportunities in the Colville National Forest. Lately, he's been working as a recreation liaison for the Northeast Washington Forestry Coalition, an alliance of forestry professionals and conservationists working in the Colville National Forest to both preserve the land and benefit from it economically.
The hope is that with the Ferry County Rail Trail, and the upcoming Get Out Fest, he can show people the value of having public land.
"For 10,000-20,000 years people walked this trail. It went private. Now it's public again," Whittaker says. "That's the crux. The public is back. It's a shared use. It's communal. It's super positive." ♦