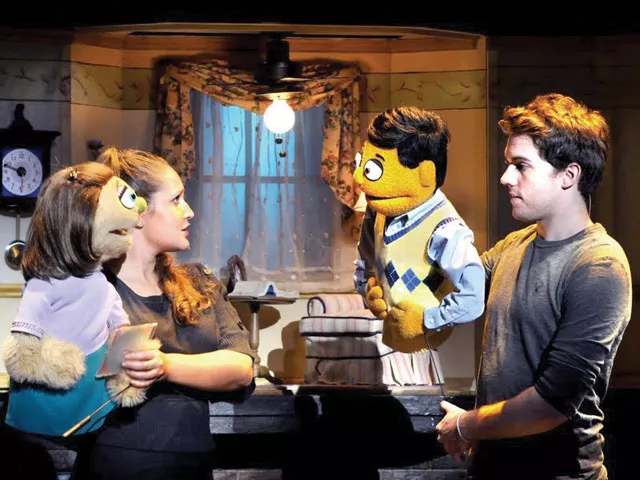 Down in the rumpus room, your 6-year-old son Kody is watching a rerun of Sesame Street, only the Muppets are singing about sex, racism and porn.
And Kody is singing along. That's what watching Avenue Q is like. (And no, you shouldn't bring Kody to this show. Maybe when he's a teenager.)
The musical with puppets who don't shy away from controversial lyrics didn't run for six years on Broadway without speaking to the real-life concerns of twenty-somethings (and their elders).
Tim Kornblum, who plays a slacker named Brian in the non-Equity touring version (at the INB Center, Feb. 11-14), sums up the show's appeal: "I don't know anybody who doesn't know Sesame Street or The Muppet Show. Well, the gist of Avenue Q is that we are taking that utopia where humans and puppets live together, and instead of lessons about [kids] growing up, as in the old shows, we're taking those characters and making it about how to live as an adult. And certain issues will come up as an adult as opposed to, you know, how to spell."
The show's puppets — they all have human companions who follow them around onstage, but the puppets are where the real action is — hang out in front of their low-rent apartment building and mope about lacking jobs and relationships ("It Sucks To Be Me").
There's Princeton, the college grad with no sense of purpose ("What Do You Do With a B.A. in English?").
There's Kate, the kindergarten teacher who'd really like a boyfriend but realizes that "There's a fine, fine line/ Between love and a waste of time."
There's Brian and his frustrated Japanese wife, Christmas Eve (whose marriage engenders the realization-in-song that "Everyone's a Little Bit Racist").
There are Nicky and Rod, roommates who are so deep in the closet ("If You Were Gay") that Rod, a Republican banker, desperately makes up stories about his "straight" life ("My Girlfriend, Who Lives in Canada").
And then the guys on the block enlighten Kate about what they really do while surfing the Web ("The Internet Is for Porn").
The songs about racism and porn (along with the show's first few F-bombs) are indicators of whether audience members are going to sit on their hands, unsmiling — or laugh uproariously all night long, says Kornblum.
But then those two songs, he says, "make everybody uncomfortable. They walk a really fine line, and they're such taboo subjects. Audiences are going to laugh extra-hard because they're uncomfortable and they want to break the tension."
Avenue Q may put a happy (fuzzy) face on its songs, but it still brings up some subjects we'd really rather not discuss: Most of us aren't living the lives we'd hoped for. We're underemployed. We're secretly happy when others are miserable. We've screwed up our careers and relationships. We're neurotic about friendships, and we're in denial about race and sex. In fact, we'd challenge anybody claiming that their lives suck more than ours.
Because our lives totally suck.
But as the show's final song hopefully declares, bad circumstances are only "For Now" — we can always try transforming ourselves.
As Kornblum says, "One of the reasons this show is so successful is that people go in, not knowing what to expect, and they come out with a whole slew of lessons on how to live your life and be a better person."

Avenue Q brings the pottymouth puppets on Thursday, Feb. 11, at 7:30 pm; Friday, Feb. 12, at 8 pm; Saturday, Feb. 13, at 2 pm and 8 pm; Sunday, Feb. 14, at 1 pm and 6:30 pm. Tickets: $30-$58. Visit avenueqtour.com and bestofbroadwayspokane.com or call (800) 325-SEAT.