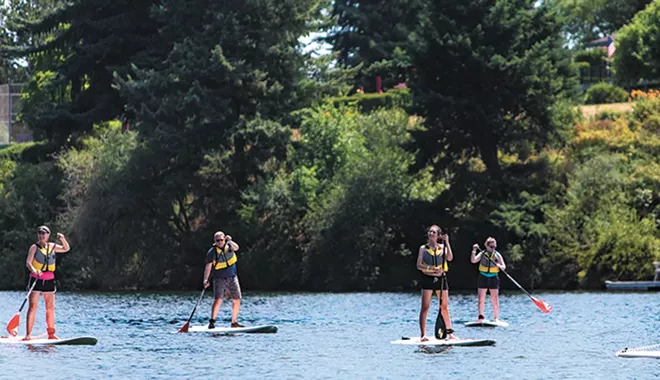 Spokatopia was founded with the ambitious goal of providing outdoor gear demos and clinics that engage outdoors experts but not alienate families or beginners. Now, the fourth annual outdoor adventure festival is hoping to achieve that goal with an event that has something for everyone, regardless of age or experience.
The festival made its name with its wide variety of popular mountain bikes available to test out in one place. But this year Derrick Knowles, founder of the Spokatopia with his wife, Shallan, hopes that the adventure clinics continue to grow in popularity.
"Because a lot of these sports can be pretty intimidating, the idea was that going with a guide or an expert from Spokane Parks and Recreation or one of our other guides just makes it easy, safe and fun, and makes it so anyone can try them," says Knowles, "Our goal is to get more people engaged with the outdoors and trying new things."
REI is even running a camping clinic which teaches the basics of camping, further enforcing the ideology behind Spokatopia: to make the outdoors accessible. Part of that accessibility includes hosting activities that include families who want to experience the outdoors together as well.
"There's a lot more kids and family activities than we've had in the past," explains Knowles. "We took the same recipe that we started Spokatopia with and kept the bike demos — which is what we really started out as — and expanded for people with different skill levels and different outdoor interests."
Families with children won't be disappointed with the amount of options they have for entertainment as Spokatopia is providing a family bouldering wall and strider bikes for kids who want to practice their mountain biking (on easier trails, of course). Also, the General Store is sponsoring a water soaker course with free water guns and obstacles around Camp Sekani.
"We like to think of Spokatopia as experiencing a summer's worth of adventure in one day right in your backyard," Knowles says, "It's a great chance to do all these different activities in one place and that doesn't happen in Spokane very often."
Spokatopia only happens once a year, but promises to teach attendees something new, whether they consider themselves experts or not. ♦

Three Ways to Make the Most of Spokatopia
• Looking to Relax? If maybe the sports and activities aren't your style, take a step back and relax in the hammock garden or in Spokatopia's Bikes and Brews Beer Garden featuring local favorites and craft breweries. There will be local bands playing and even a mountain bike jump show starting at 1 pm.
• Learn Something New: Spokatopia has plenty of adventure clinics available throughout the day taught by approachable and patient guides. All skill levels are welcome, but there are mountain bike and rock climbing clinics designed specifically for beginners. Other classes include kayaking, canoeing, paddleboarding, paddleboard yoga and disc golf. Clinics are $10-$20 per person, depending on the activity. Those under 18 must be accompanied by a parent or guardian.
• The Best Bikes in the World: For $5 you can buy a demo pass which gives you access to some of the best bike brands in the world — and allows you to actually ride them around the Beacon Hill trail system. The demo pass also allows you to try out watersport demos, but for avid cyclists the opportunity to ride a bike that normally costs anywhere from $3,000 to $5,000, from brands like Specialized, Santa Cruz, Giant, Niner and Trek, is too good to ignore.