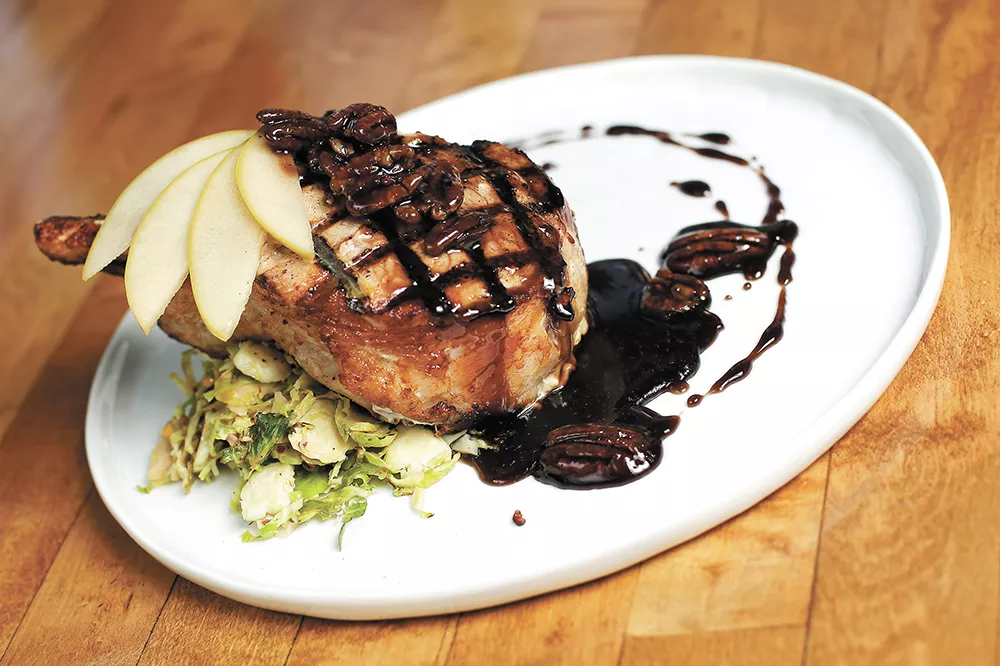 If there was ever an ingredient that neatly epitomized Washington, it's the apple.
According to the state's Department of Agriculture, Washington produces more than half of the country's apples, with farmers harvesting upward of 2 million tons of the fruit every year.
But let's not forget about cherries, also one of the Pacific Northwest's biggest crops. This year's bounty was, by some accounts, a record-setting one, with a colder-than-usual spring extending cherry harvests and yielding close to 220,000 tons.
It only makes sense, then, that regional eateries would take advantage of such bountiful harvests, especially as we move through the apple-picking season. Here are a couple of dishes — and a trio of cocktails — that make quick work of these regional fruits.
Double Bone-In Pork Chop
$25, Durkin's Liquor Bar, 415 W. Main, durkinsliquorbar.com
Apple isn't the star ingredient here, but it is a significant player. The folks at Durkin's excel at elevating classic comfort food, and this monster of a dish is no exception. The hefty chop is brined, seared on the grill, then put in the oven, and the meat itself is tender and juicy, unlike the kind of pork chop we've all tried and failed to make at home. It's drizzled with sweet — but not too sweet — pork jus, surrounded by crunchy pecans, and served on a bed of Brussels sprouts, which soak up the excess sauce. The pork is topped with pickled apple slices, which might look like a garnish but actually offer a nice, sour counterpoint to the sweet glaze; put a little apple on top of the pork for a perfect bite (honestly, I could have done with even more apples). It's a dish that's filling even if you go in hungry, but could just as easily be split comfortably between two people with modest appetites.
Bison Burger
$16, The Blackbird Tavern + Kitchen, 905 N. Washington, theblackbirdspokane.com
This was my first rodeo when it comes to eating bison, and it doesn't taste much different from beef. It's a lower-calorie meat, however, and it's reportedly more eco-friendly to raise buffalo than cows. What's not to love? This Blackbird burger — boasting meat raised in North Idaho — is unconventional in a few ways, not only because of the patty, but because of the sweet and tart cherry rhubarb jam that serves as its main condiment. The jam was delivered on the side so I could apply it as liberally to the burger as I wanted, but I still found myself dipping the last remaining bites of burger into what was left of the jam. It adds a nice, acidic kick to the burger, complementing the smoky simplicity of the meat. (You can also get a side of fries, and a pile of them will cost you an additional $5.) If you're feeling like a drink, the Whiskey Tango ($9) is a perfect autumnal libation: Made with cinnamon-infused whiskey and apple gin, it tastes like fall in a martini glass.
The Equinox
$12, Hogwash Whiskey Den, 304 W. Pacific, drinkhogwash.com
Most apple-based cocktails you've likely ever tasted are either artificially flavored or use some kind of cider as a base ingredient. But at Hogwash, the rustic whiskey bar tucked into the corner basement of the Washington Cracker Co. Building, the most prominent apple drink on their new fall menu is typical of the place's refreshingly unconventional approach to mixology.
The Equinox, created by Hogwash bar manager Simon Moorby, is built around a shrub — a vinegar-based syrup that ferments for up to a week — bolstered by Moorby's homemade Fuji apple butter. Most shrubs are typically strained through cheesecloth, Moorby says, but he has foregone that step; before it goes into the drink, it has a texture that's similar to a thin applesauce.
"The viscosity is the whole purpose of the cocktail," Moorby says. "I really wanted to use the depth of the apple butter."
In a chilled glass, an ounce of the shrub is mixed with bourbon, lemon juice and yellow chartreuse, which has a mildly sweet herbal and honey taste. The Equinox isn't exactly what you might expect from an apple-centric cocktail: It's not cloyingly sweet, nor is it overpowered by the vinegar. It has a complex, slightly acidic flavor that opens up the more sips of it you take.
If you're in the mood for cherry, Moorby says he'll soon be pressing bourbon-soaked Rainier cherries, which will likely be used upstairs behind the bar at Inland Pacific Kitchen. Also recommended is Hogwash's Blood and Sand ($10), a cocktail bar staple that gets a kick from tart cherry liqueur by Leopold Bros. ♦