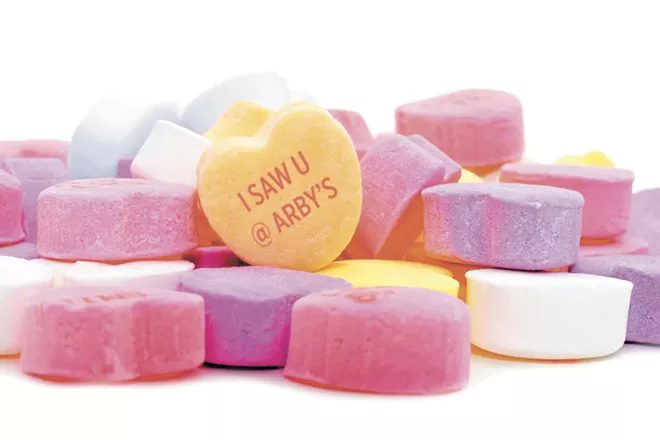 It may seem like the only way to meet people anymore is to swipe endlessly through profiles, inevitably suffering through story-worthy but horrible dates. You know the kind, where they think it's a good idea to take you to a two-hour art film that has no dialogue, or don't let you get a word in edgewise as they chew with their mouth open, oblivious they haven't asked you a single question.
But believe it or not, love can be found in some strange, serendipitous places. Whether that's uttering "beef and cheddar" at Arby's at the exact same moment as the man next to you, or asking your virtual teammate to conquer a different kind of quest by moving across the country, these real examples from local couples just might prove that you never know where you'll find The One.
WHAT'S ON YOUR LIST TODAY?
Jana Ashby didn't have "love" on her list when she went to her local grocery store in Zillah, Washington. But she found it there anyway. She was 16 years old and went to the Zillah Food Center with a camcorder for a school assignment, but the adventure turned into Ashby and her friend causing trouble and yanking items off the shelves. This was in 2002, the time of MTV's Jackass, so this was all pretty standard teenage stuff. Then she saw him, "A smoldering 18-year-old, short and scrawny with dark eyes and hair, looking hot as hell in his pink and white-striped shirt and maroon apron," she says. His name was Michael Ashby, and he would be hers. Seventeen years later, they're a happily married couple. (WILSON CRISCIONE)
DUMPSTER DIVORCEES
Laura Elmaliah wasn't in a good place. Seventeen years ago, the 41-year-old divorcée had been on countless dates at fancy restaurants, complete with grand romantic gestures, yet they'd all ended poorly. With the leftovers of her failed romantic conquests rotting in her head, she went out to her apartment complex dumpster to throw away her trash — not expecting to find love.
As she heaved the garbage bag in the dumpster, a guy called to her across the parking lot. He was cleaning out his truck. He told her his name, Dan Martinez. He, too, had been divorced. After they talked for a bit, he asked her out for coffee or tea sometime. Though she had told herself she didn't want to go on another date for a while, for some reason she agreed.
They've been together ever since.
"It was kind of a late time to find true love, but it was better late than never," Elmaliah says. (WILSON CRISCIONE)
CAR WASH PARTIERS
Around 30 years ago, Jeff Frater had a scheme with his colleagues at the car wash he worked at on North Division in Spokane — they would offer pretty girls free car washes in the hopes of picking up some phone numbers. Usually it never worked. But then, one day, two girls asked them if they wanted to come to a party with them after they gave them a free wash. "We were like 'Oh my gosh, this finally worked,'" Frater says. After the party — which Frater says involved "a lot of making out" — Frater's friends began dating a social circle he met at the party, where he eventually met his current wife, Connie. (As he tells it, he and Connie originally started dating because she was trying to make a friend of his jealous.) They eventually got married in 1989 and still are today. (JOSH KELETY)
WHEN BEEF MET CHEDDAR
A reader identifying herself as Wendy Jacobson sent us a story that warmed our hearts and then kept them under a heat lamp.
It had to be fate that led Jacobson and the man of her dreams to arrive at the same Arby's restaurant on the same day. "We were both waiting to order and we got to the counter at the same time at side-by-side registers and, I'm not kidding you, the words 'Beef and Cheddar' came out of our mouths at the exact same time," Jacobson wrote to the Inlander.
Reader, she married him. In fact, Jacobson writes, they got married two years later in that same Arby's. The manager, she claims, even gives them extra curly fries whenever they come in.
Naturally, we wanted to know more. Did their vows name-check Horsey Sauce? Did this union result in a little Junior Roast Beef? But while we emailed Jacobson repeatedly, we never heard back. We got desperate, tried to use every investigative tool in our journalistic arsenal to track her down. We cold-called area Arby's, asking them if they'd hosted any nuptials in the last few years. Did Jacobson even exist? Was this all just long con by Arby's guerrilla marketing team to promote their unbeatable slow-roasted roast beef, turkey and premium Angus beef sandwiches by wrapping them up with the greatest love story ever told?
So this is a plea: If you're out there, Wendy Jacobson or her mysterious husband, give us a call so we can meet. I'm thinkin' I know just the spot. (DANIEL WALTERS)
HIGH SCHOOL REUNION SWEETHEARTS
According to Dana Stralka, she and her current husband, Dave Stralka, only went on one date during high school, when she was temporarily broken up with her then-boyfriend. They went to a drive-in movie together, but Dana says she wasn't infatuated with him at the time. "I always thought he was kind of a sweet guy [but] he wasn't necessarily my type at the time," she says. "During the movie I actually fell asleep." Then, at their 30-year high school reunion, Dana says she was keen on seeing Dave again when she spied him going into the men's restroom. "I thought 'That's Dave' and I waited until he came out," she says. "I just asked him if he remembered me and he said 'Yeah!' and he swung me around." They got married six months later. (JOSH KELETY)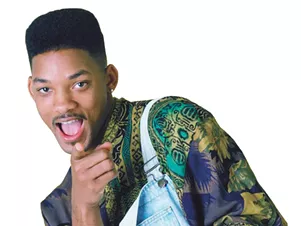 A FRESH PRINCE MEETS HIS PRINCESS
A lot of couples have met in bars. Skip Jurgensen wrote to the Inlander about meeting his wife while they were spitting bars.
When he was a teenager, Jurgensen moved away from a somewhat sketchy neighborhood in Philadelphia to live with his auntie and uncle in Spokane. Bel Air, it ain't. Either way, Jurgensen found himself in a city full of strangers.
"I didn't know anybody, other than my dorky cousin, who was always embarrassing me," he writes. "It was like my life had been twisted and turned upside down."
And like a certain Fresh Prince, Jurgensen was a pretty slick rhyme slayer, and he recalls that Cupid intervened as he was freestyle rapping in the hallways of his high school.
"This girl comes up to me," he writes. "And she starts rap battling me. I thought she was fly as hell and asked her on a date, and we made up rap songs and got into some trouble — nothing too serious that we couldn't weasel our way out of in 30 minutes or so."
And you thought 8 Mile was romantic. They are still together and have two children.
"She treats me like a prince," Jurgensen tells us. (NATHAN WEINBENDER)
MORE STRANGE LOVE
Scary Love
They Saw Each Other
Another Kind of Valentine
WoW Me
BONUS: The Doctor of Love