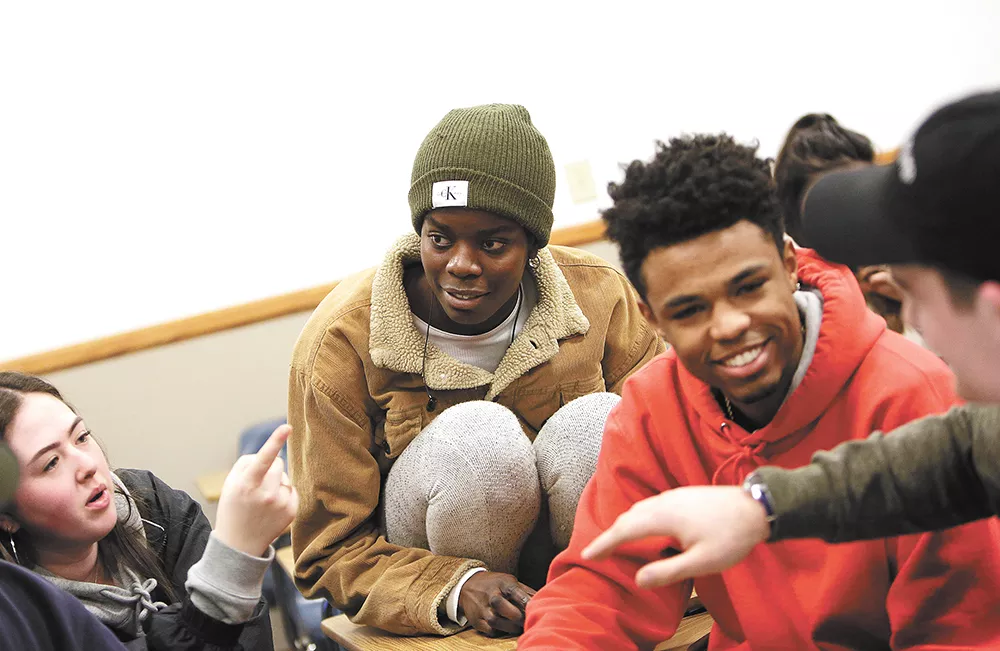 Chances are Reece Stone's finance professors have no idea about the diminutive 20-year-old redhead's other life, one born a couple of years ago when a fellow student in his Gonzaga dorm introduced him to an addictive new habit. He's only been drawn in further in the years since, and someday hopes to turn his obsession into a living.
Stone is a bedroom beat-maker with big dreams that started when "a kid down the hall had a beat pad" to create sounds. That evolved to his own laptop, loaded with software he's using to show a room of about 30 fellow students just how easy it is — with a lot of practice and time watching YouTube tutorials — to create the kind of beats they're used to hearing on their favorite tunes from J. Cole, Joey Bada$$ or Jay-Z.
Stone's demonstration comes on a cold, drizzly night on campus, where it's one of the highlights of a meeting of Gonzaga's new Hip-Hop and Rap Club. The gathering of young men and women is racially diverse, and probably far more enthusiastic and joyful a meeting than those of, say, the school's Actuarial Science Club (all due respect to our future insurance adjustors).
After Stone delivers one particularly buoyant series of sampled beats, several students show their appreciation with common signs of hip-hop respect — hands thrown in the air and a few audible "Oh, yeahs!" Fellow student Jesus McCloskey (rap name: GRXTTY) gets a similarly enthusiastic response when he takes over the stage — er, classroom — to illustrate how he creates lyrics on the fly, inspired by some of his fellow students throwing out ideas like they're at an improv-comedy show.
"Luckily, I have rhythm, but some people who want to rap don't have rhythm," says McCloskey. He also has an entrepreneurial spirit that belies his status as a broadcast major; at the end of the hour-long club meeting, he pulls out a box of T-shirts he's selling (and currently modeling) to help fund his hip-hop aspirations.
H
ands-on lessons in music-making are just part of tonight's meeting, and of the original concept for the Gonzaga Hip-Hop and Rap Club. Gatherings bounce among topics for discussion: At various points so far this year, the group has analyzed classic rap albums (Nas' Illmatic and OutKast's Stankonia among them), talked about the members' new musical discoveries, discussed the history of the genre, and dissected the music as a reflection of American culture's attitudes on race, sexuality and class.
When friends and fellow Los Angelenos Gabriel Rivas and Evan Watson arrived in Spokane, they noticed a distinct lack of hip-hop on campus — in classes, the student clubs offered, or the concerts thrown at the school. It took a while for them to get organized and figure out how to become officially recognized — a process involving writing a club constitution, recruiting officers, etc. — and this fall they started having meetings that have consistently grown, Rivas says.
"We really felt like over the two years that we'd been here, a lot of people when they talked about hip-hop or rap, it was in a negative light," Rivas says. "Or they only knew what was on the radio, and didn't listen to full albums, or analyze and critique. A lot of the music we discuss has importance, and discusses social issues that have affected large parts of society."
Even professors he's had have mocked hip-hop's significance, Rivas says, only speaking of the music in terms of stereotypes about drugs, sex and money. At the same time, a freshman English professor allowed him to research and write about hip-hop's roots, a paper that turned into the inspiration for the club's first meeting discussion.
Rivas and his peers hope the club will not only educate the students about the genre's diversity and social consciousness, but also open the eyes (and ears) of the community at large. Watson says getting people who aren't necessarily well-versed in rap music to join the conversation is a major challenge, but the more visible the club is on campus, hopefully the more people will feel welcome.
T
o that end, the club is throwing a Fall Fest concert Friday featuring up-and-coming Seattle rapper Travis Thompson, as well as Gonzaga student performers like McCloskey and fellow club member and rapper Ronald Chan (aka Yung Kuan).
For Chan, a San Francisco native and senior studying finance and entrepreneurship, the show will be his first time performing a concert after years of learning instruments, creating rhymes and making videos. He credits the creation of the club for the opportunity to take his hip-hop aspirations to a new level.
"I didn't expect something like that at all on campus," Chan says. "I'm really glad it happened, because it allows people who like hip-hop to come together and learn more about the genre and embrace the music together. And it [gives] people trying to make music themselves ... a platform to do that."
When Rivas and Watson were first searching for club officers, they hit up Stacey Hernandez, a junior psychology and pre-med major from Texas who they knew was into hip-hop, thanks to a lifetime of listening to old-school tunes inspired by her native New Yorker parents. Already an active member of Gonzaga's Black Student Union and La Raza Latina clubs, she says she's never been as involved with a club on campus as she's been with the hip-hop club.
And while she's always delved into the social consciousness of the music she loves, assiduously exploring the lyrics of her favorite artists, she didn't realize how many fellow Zags shared her interest until the meetings started to get crowded.
"I didn't think a lot of people were really interested in hip-hop at our school, and the deeper meanings," Hernandez says. "It's interesting to see how many people were really interested in learning about the culture. You bond with people over music, so it's always nice to get to our meetings and see what other people are listening to, and sharing with those people." ♦
GU Hip-Hop and Rap Club Fall Fest featuring Travis Thompson, GRXTTY, Yung Kuan and $wang • Fri, Nov. 17 at 7 pm • $12/$10 for Gonzaga students • Cataldo Hall Globe Room • 502 E. Boone