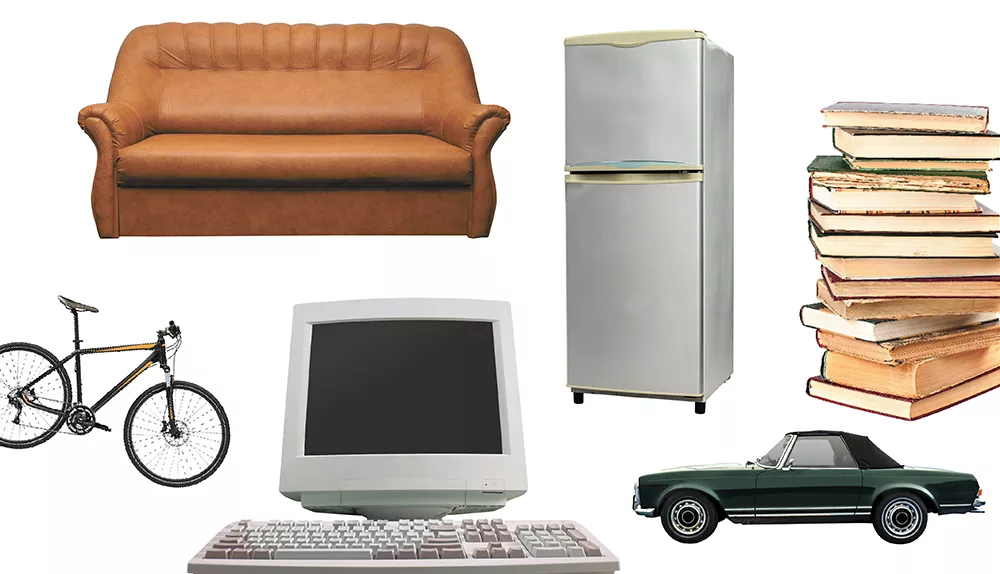 Donating items to a charity is a wonderful thing, but don't think of these organizations as a glorified garbage dump. Instead, declutter your home by offering up gently used items you think someone else may appreciate and benefit from. Always feel free to call an organization beforehand to see if they have any specific needs.
Furniture, small appliances and household accessories
Items to consider donating: dressers, tables and chairs, beds, sofas, lamps, desks, sheets and bedding, towels, dishes, cookware.
• Catholic Charities Furniture Bank (formerly Spokane Community Warehouse), 919 E. Trent, 991-9345*
• Volunteers of America, 6206 E. Trent, Spokane Valley, 327-4112*
• Habitat for Humanity-Spokane, 3808 N. Sullivan, Bldg. 10, Spokane Valley, 535-9517*
Books and educational materials
Donate barely worn books to the library after you've finished reading them. Note: They will not accept magazines or textbooks, or old books like an out-of-date encyclopedia or computer manual.
• Spokane Public Library, see spokanelibrary.org for locations, 444-5307
• Coeur d'Alene Public Library, Second Story Books Bookstore, 702 E. Front Ave., Coeur d'Alene, 208-769-2315
Clothing
You most likely know about nonprofits around the region that take wearable clothing; here are some charities focusing on more specific items.
• Bras: Breast Intentions, Facebook.com/breastintentionswa, email to schedule a donation drop-off: breastintentions@comcast.net
• Eyeglasses: Spokane Central Lions Club, visit e-clubhouse.org/sites/spokanecentrallionswa for drop-off sites all around the region
TVs, computers and small electronics (functional)
Before you e-cycle your old electronics, consider donating them. Determine that the item is still viable; for instance, that software is still available for a certain computer.
• Salvation Army Family Thrift Store, visit satruck.org for locations*
• World Relief Spokane, 1522 N. Washington, Suite 204, 484-9829*
Cellphones
Be honest; you have a drawer full of old cellphones somewhere in your home. Instead, put them to good use.
• YWCA of Spokane Alternatives to Domestic Violence, 930 N. Monroe, 326-1190
• STCU (benefits Children's Miracle Network Hospitals of Spokane), visit stcu.org/branches_atms for locations
• World Relief Spokane, 1522 N. Washington, Suite 204, 484-9829*
Vehicles
Give your unneeded car, boat, truck, motorcycle or RV away — even if it's not running. This usually comes with a hefty tax incentive. Just food for thought.
• Cars for Charity, 10414 E. Knox, Spokane Valley, 928-1900*
• Union Gospel Mission Motors, 7103 E. Sprague, Spokane Valley, 327-4357*
• The Arc of Spokane, 320 E. Second, 328-8100*
Large appliances
We're talking stoves, refrigerators, freezers, washers and dryers. Make sure they're in reusable condition and are cleaned out.
• The Habitat Store, 3808 N. Sullivan, Bldg. 10, Spokane Valley, 535-9517*
• Union Gospel Mission, visit uniongospelmission.org for locations, 532-3815*
• St. Vincent de Paul North Idaho Thrift Stores, visit stvincentdepaulcda.org for locations*
Beauty items
Think of all those things that help make a woman feel good — like shampoo, soap, makeup and perfume — and donate items you may have barely used.
• Project Beauty Share, 216 N. Bernard, visit projectbeautyshare.org for a full list of accepted items and for drop-off sites, 455-3537
Baby items
Places specifically looking for baby items can always use things like diapers, bibs, baby wipes, toys and clothing.
• Vanessa Behan Crisis Nursery, 1004 E. Eighth, 535-3155
• Inland NW Baby, 15303 E. Sprague, Spokane Valley; visit Inlandnwbaby.org for a full list of needed items, then call to schedule a donation drop-off, 499-0670
• Baskets for Babies, visit basketsforbabies.org for a full list of needed items, then call to schedule a drop-off, 214-2634
* Organization offers pickup services