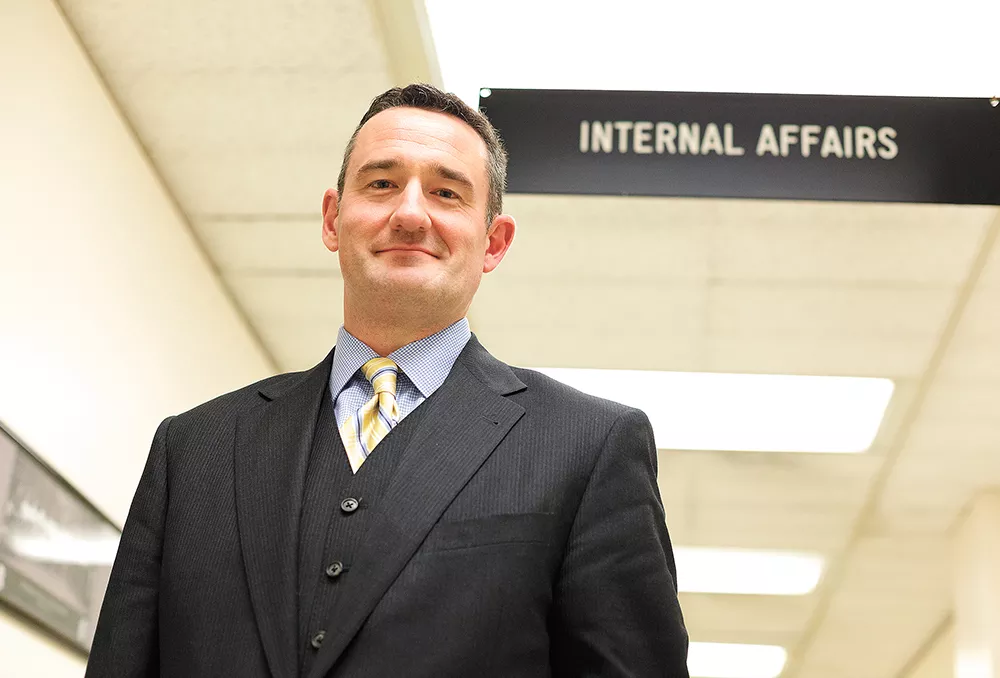 The rookie cop with silver sideburns was about a mile away from the flaming vehicle in North Spokane. The woman inside had called 911 just minutes before. Smoke filled the car and flames from the engine lapped against the windshield. The electronic locks did not work, and Kimberly Novak's attempts to kick out the windows were unsuccessful. She was trapped.
Spokane Police Officer Tim Schwering sprinted toward the flaming vehicle, but the door was locked, and the flames danced higher. He bashed the driver's side window with his baton, expecting it to shatter. The laminated glass only cracked. The fire continued to roar, and Schwering continued to crash his baton into the window — more than 30 times total.
"We gotcha," Schwering told the woman.
Flashes of the inevitable explosion raced through their minds.
Finally, Schwering busted through, and with a gloved hand and help from a nearby citizen, he tore the rest of the window apart, just enough for the terrified woman to crawl out. By the time firefighters arrived, the bumper had melted into a flaming pool under the car.
In the days following this rescue, body camera footage, released immediately by Spokane police, gave people in Spokane and around the country a small look into the risks that police officers face. Local news stations interviewed a humble Schwering and a grateful Novak as the footage reached an international audience.
For the 43-year-old, who just graduated from the police academy last June, this was perhaps the strangest situation he's encountered in his short time as a commissioned officer. Schwering says he's tried to research an explanation for why the car burst into flames and locked Novak inside, but has yet been unsuccessful.
Schwering was hired in 2013 to lead SPD's newly formed Strategic Initiatives Division, which included investigating officers for misconduct. He also oversaw the department's new body camera program. But in 2016, he opted to trade a suit and polished leather shoes for a badge, a gun and thick black boots.
The former stockbroker, federal investigator and civilian director in charge of a police department's major reform effort now patrols the streets of Spokane on power shift (from about 4 pm until the early morning hours).
"You've gotta be doing something you enjoy and that you believe in," Schwering says. "Otherwise it's for naught." ♦