T
his Thursday
, mayoral and City Council president candidates will appear at a Homeless Coalition Candidate Forum at 9 am at the downtown library.
One issue almost certain to come up: The city of Spokane's efforts to launch a new homeless shelter. The city was supposed to have a new homeless shelter ready to open by
July 1
. And when the city blew past that deadline, it set the new deadline as
Sept 1
. That deadline has come and gone, and the city hasn't even officially purchased the building the shelter will be located in. It's all a bit déjà vu to
last year's failure
to get warming centers open before the winter months hit. Already, homelessness activists like Tom Robinson have been teasing the possibility of the resurrection of Camp Hope, last year's controversial homeless camp outside City Hall.
"I'm tired of getting blamed for things that the mayor understaffs and can't follow through on," City Council President Ben Stuckart says.
county wanted the city of Spokane to answer a list of questions
before contributing funding. The Grocery Outlet facility has also been met with a list of objections from people associated with Project ID, the disability center
on the same parcel
.
But if the question over the Grocery Outlet shelter's location comes up, at least one candidate says she's limited in how she can respond.
Asked about the Grocery Outlet proposal last month, City Council president candidate Cindy Wendle told the
Inlander
she's not commenting on the issue, "out of respect for the process and respect for voters."
"I want to act as much now as a candidate as I would when I'm elected," Wendle says. "Recognizing there's a conflict of interest in that entire process and real estate transaction... I would recuse myself if I were elected, and I'm going to recuse myself now as a candidate."
Her husband, Chud Wendle, is the executive director of the Hutton Settlement, the nonprofit that owns the former Grocery Outlet facility.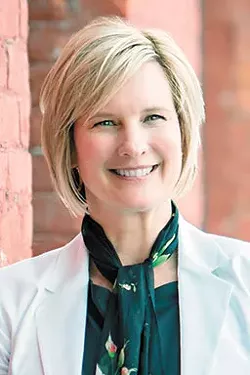 "I know it's frustrating. I know people, you're an elected [official], they want to hear from you,'" Cindy Wendle says. "But honestly, it means so much to me to just let the voters and the city and the neighborhood, everybody that's involved in that, come up with their solution that works best for them. And I'm not going to comment."
County Commissioner Mary Kuney, who sits on the Hutton Settlement board, took a similar tack with regard to her connection to Hutton. She's recused herself from discussions about the Grocery Outlet property in
both
her county and Hutton roles.
<!——————————————EndFragment——————————————>
Hutton, founded as an orphanage 100 years ago, today operates as a group home for children. (To get a sense of how much of a difference the Hutton Settlement can make in one person's life, read
this account
of how the organization helped a kid recover from years of abuse and neglect.)
But at the same time, the Hutton Settlement also owns a number of properties. Instead of relying on taxpayer money, it uses that rental income to operate the group home.
"Over 100 years, we've had hundreds of properties. Rental income has funded about 90 percent of our budget on an annual basis," Chud told the
Inlander
in an interview last week. "It's managed just like it would be in a stock portfolio. Underperforming stocks, or in this case, properties, are sold off."
And so when it comes to selling the property, Chud says, "what the city of Spokane does with it is irrelevant to Hutton."
"We're going to look for what's best for Hutton, number one," he says. "And that is always about return on investment."
For about nine months, Chud says, the Hutton Settlement and the city of Spokane went back and forth, and finally entered into a purchase-and-sale agreement in July.
Chud, previously a
district director
for Rep. Cathy McMorris Rodgers, has publicly expressed frustration over the impact of Spokane's transient population on Hutton Settlement properties.
In an October 2017
Spokane City Council meeting
, Chud described a "drastic increase in transient homeless population" in the NorthTown Mall neighborhood, resulting in a slew of public safety concerns near Hutton Settlement and Northtown Square, where Cindy Wendle serves as a co-owner.
According to Chud, a homeless man threatened to shoot a young frozen yogurt shop employee in the head after she asked him to pay for his cup of yogurt toppings. A homeless man "covered in feces" decided to touch everything on his way to the bathroom, he said. Another tenant, Chud said, reported that someone had taped a drug syringe on the front door of their store, apparently hoping the employee who first entered would be pricked by it.
"For Hutton Settlement, our expenses have quadrupled over the past six months," he said at the council meeting.
And considering Hutton Settlement relies on revenue from their properties, he argued that losing a tenant quite literally hurts the children.
"When a tenant leaves," Chud said, "so does a child."
As she runs for office, Wendle has strived to portray herself as a pragmatic consensus builder, who avoids the extremes on either end of the political spectrum.
She says the city has to both work with nonprofits to figure out how to maximize the benefit for the most vulnerable, but also anticipate the impacts that the projects are going to have.
"We're going to have this 'not in my backyard' [mentality], right?" Wendle says. "And that's not unique to Spokane."
Wendle says she hasn't seen the current council "recognize the impact that they could have on how projects can go well or not go well."
But Wendle has been vague when pressed on specifics.
Asked if there was any specific moment where the City Council missed an opportunity or negatively influenced a project, she didn't have any examples. And asked whether there were any other potential places for a homeless shelter, she didn't offer any suggestions, but stressed that her experience with commercial real estate would be an asset to untangling these complicated real estate deals.
"I think we all drive around town and go, 'Well, that might be a good spot or that might be a good spot,'" Wendle says. "[But] every project is different. Every piece of land is different. The goals are different. It takes somebody that needs to go in and assess all of that."
Wendle's opponent, Councilman Breean Beggs, says that the city's preference for locating the shelter at the
Daybreak Youth Services
facility, instead of at the Grocery Outlet center, largely makes the concerns of Project ID moot.
But he also says that he doesn't think that locating the shelter at Grocery Outlet would have necessarily been a bad thing for Project ID. The surrounding neighborhood had already been suffering problems with vandalism, drug use and harassment.
"My thought is that having an on-site security presence would make it a safer location," Beggs suggests. "As long as the city provides security, it would be an improvement."
Then again, he says that Daybreak had advantages as well. It's a better location for transitional housing.
"It's much closer to the EnVision Center as well," he says. One constituent suggested taking a look at the Brown Building Materials facility, on Martin Luther King Jr. Way. It's a big building, out of the way enough that it shouldn't bother any neighbors. It's near Union Gospel Mission. No matter what the city chooses, Beggs says, the city needs to hurry.
"The clock is ticking," Beggs says. "If we don't get it figured out, we have to do these satellite warming centers, which are very expensive and not very effective."
This story has been updated to clarify that Hutton Settlement has owned hundreds of properties over the past century, instead of owning hundreds of properties currently.