Goodnight Venus says they've been trying to make "Northern Idaho happen" for some time. They even have a song called "Idaho." Yet since 2010, when the alt-rock trio first got together, playing in their hometown hasn't always been easy.
"Coeur d'Alene has a pretty terrible music scene," says frontman Darin Schaffer. "If you don't play covers, you don't play."
There are exceptions, they say, like the Hogfish and other small bars that work to bring in local original bands, but the group mostly has to travel to other cities if they want a gig. Yet it's not only a matter of where they're from — the band hasn't played a show since July because they wanted to get their sophomore album completed. This was further complicated when Schaffer recently got a job in Bellingham. But on Saturday night, the group is finally getting back in the musical game, playing the Big Dipper in celebration of their new self-titled album hitting iTunes.
While they haven't released a record since 2012's The Me Show, the band started out with a bang. Their first real gig was at the Bing Crosby Theater in 2011, opening for instrumental rock act Explosions in the Sky. Schaffer recalls getting out on stage that first time and playing a big drop D chord. The thought still gives him goosebumps.
"It was really cool, yet scary," he says. "Most bands have to sell themselves and tell promoters how great they are, but we got that show by doing the opposite. We weren't the best and don't have a huge 'draw.' We just humbly asked if we could play because we love [Explosions in the Sky's] music and the venue."
Prior to the new record's release, Schaffer and bassist Tony Farris met up for an interview at a Spokane coffee shop. At the time they hoped their self-titled work would be further along, but the mastering process wasn't complete. Yet the self-proclaimed small-town guys say they are finally at a place where they're making this band their top priority. They've tried doing that before, through touring and practicing at least once a week, but the business side of music is a challenge. It doesn't help that they all have full-time jobs and Schaffer sometimes goes off the grid (he won't own a phone, as he doesn't like to always be "on").
"We're way better at making music than selling music. I don't know how to change that," Schaffer says.
But Goodnight Venus' connection remains strong. Here, there are no egos. "It's fun and cathartic, getting to bullshit out there with these guys," Farris says.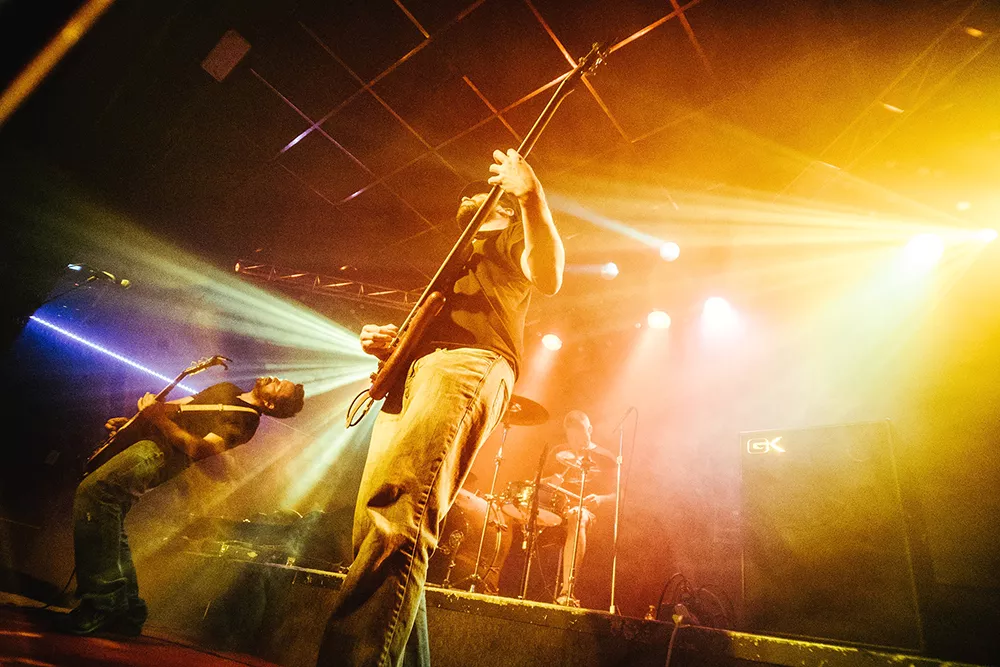 The group also features drummer Scott Jessick, formerly of Black Happy, the prominent 1990s North Idaho alt-rock/funk band. So it makes sense when they say that '90s music serves as a starting point for many of their compositions; it's when these guys started making music.
On their new record, each song drifts towards a new genre — alt-rock to punk to notes of jazz. The first track, "Circles," dips a toe into heavy metal territory, while the record's first single, "Drift," has an almost rockabilly vibe. Even Schaffer seems like he's experimenting vocally from track to track, one minute singing melodically and raspy, to then moving into sing-talk phrasing.
But somehow, the 15 tracks work as a cohesive unit. The band's instrumentation doesn't come off as insanely complex, but their talent shines. Schaffer, now on guitar, used to have his own solo bass project, but he describes Farris as one of the best bassists around. Meanwhile, Jessick gets the most out of a sparse trap set.
When writing together, the only rule is that songs should be short, and tracks on the new record range from 19 seconds to five minutes. All the tunes here are memorable — especially the aforementioned "Idaho," with its quick line: "Idaho, Idaho, Idaho / I don't know / Idaho, Idaho / I-D-A-H-O."
The thing you won't get from the trio's new album is how loud they are. A Goodnight Venus show is marked with its ability to exceptionally fill any space; they have a love affair with tube amps, after all. On Saturday, they plan to blast people's ears with songs from the recent release as a reminder of how far they've come as a band.
"This is a document of memories," Schaffer says. "Even if only 10 people love it, it's worth it to do this. These songs are all about taking chances, and that's what we're doing." ♦
Goodnight Venus with Wayward West and Fancy Boy • Sat, Nov. 19, at 8 pm • All-ages • $5/$7 day of • The Big Dipper • 171 S. Washington • bigdipperevents.com • 863-8098