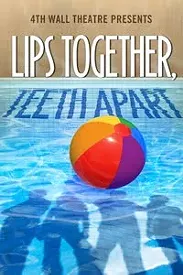 This just announced last week. The Civic's Studio Theater production of Lips Together, Teeth Apart (directed by Wes Deitrick, running April 30-May 23) will star Amy Nathan and Ron Ford as Sally and Sam Truman, and Tami Rotchford and Dave Rideout as Chloe and John Haddock
Two married couples spend the Fourth of July weekend at the home of one of the women's brothers, who recently died of AIDS. The 1991 play was written by Terrence McNally (b. 1939); the original Manhattan Theater Club production starred Christine Baranski as Chloe, Anthony Heald as John, Swoosie Kurtz as Sally and Nathan Lane as Sam. McNally uses interior monologues, ghost characters (the gay men next door), and a symbolically upscale house and swimming pool to examine the couples' loneliness and insecurities.
Frank Rich's 6/26/91 review in the New York Times is here.
[ image: from a Sept. '09 production in Upper Montclair, New Jersey ]