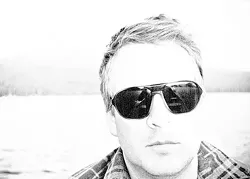 Each day this week, we'll be previewing bands playing at this weekend's inaugural Birds on a Wire festival in Pullman. Look for our full story — featuring Rocky Votolato, Justin Townes Earle and Joe Pug — on Thursday.
You know Al James. He's the breathy vocalist that fronts Portland indie band Dolorean. Don't be bummed that the band's not following him up to Birds on a Wire, though — even James says on his MySpace page that his solo stuff sounds like "Dolorean... without the tasteful and talented backing band." Without the band behind him, James is more restrained, emotional and introspective. Not that he bloviates in Dolorean; it's just that when he's alone onstage, James' crystal voice takes on a whole new sound. One that quietly and plainly catches your attention.
Here he is playing "Heather" at the Maze in Knottingham, England.
Al James plays the Gladish Gym on Friday, March 26 from 11 pm to midnight. Birds on a Wire starts Friday night and runs all day Saturday. Tickets are $35 in advance, $45 day-of. For more info, go here.