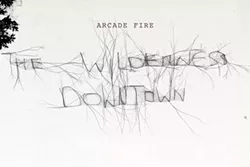 Everyone's talking about how the Arcade Fire masterfully captured both the joy and monotony of growing up in suburbia with their third full-length record
The Suburbs
(our own Seth Sommerfeld agreed
with the review we ran
a couple weeks back). And the band takes that feeling — putting the listener back in their childhood home, running through the streets of the 'burbs — one step further with
"The Wilderness Downtown."
It's a short film set to the band's "We Used to Wait" — one that happens to take place in
your
neighborhood. No, really: You type in the address of your childhood home, and through the magic of the Inter-web, you're back spinning in circles out in front of your house. It's actually really cool: download
Google Chrome
and see the video for yourself
here
.
When Google street-viewed my parents' street, it must have been a bright summer day. And as I look at the front of my childhood home through this video, I'm instantly reminded of a joyfully monotonous summer day I walked barefoot on the tar strips mending the cement in the road. I left black footprints all over the house.
So I guess the Arcade Fire's ploy to make me feel nostalgia worked. (As did Google's ploy to get me into Chrome.)