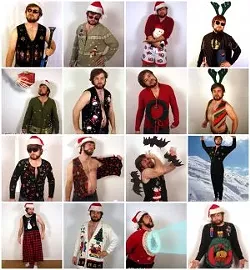 To have fun this weekend, a really hideous holiday sweater is required. See the picture at right for inspiration.
TONIGHT!
Throw that sweater on with a turtleneck and pleated pants and head to the Globe for a First Friday music and art show. The Soul and the Machine (who we profiled here), Matthew Winters and DJ Afrodesiac, and art by the Soul and the Machine's synth guy, Scott Gyllstrom. Ugly sweaters that rule may earn you prizes. 7 pm. Free. Gotta be 21.
TOMORROW!
That Ugly Sweater will come in handy again at Aclub's Ugly Christmas Sweater Party. This one is sure to be full, so you won't be alone in your ugliness. Probably one of the best shows on the Aclub stage so far: the Toy Garden plays their last show alongside Reverb (who we wrote about here), the Most Adorable Murder (featuring members of Portrait of a Gentleman), Gun of the Sun, supergroup the Flying Spiders, Jimmy Nuge and DJ Likes Girls. Wow, huh? 9 pm. $5. Gotta be 21.
The annual Monumental Booking holiday showcase — the Nightmare Before Christmas — will blow the speakers at Aclub early in the afternoon tomorrow. Some of Spokane's loudest bands kick off this year's three-part showcase: Inlander "Band to Watch" FAUS, Jedediah the Pilot (who we wrote about here), Beyond Mortality, Watch Athens Burn and Equipping the Minotaur. 4 pm. $8 for one show, $20 for all three. All-ages. Sweater may be too hot for this one.
No Ugly Christmas Sweater required for this one: The Queers have been making pop-punk for 22 years — and have cycled through over 30 members. When they talk about kicking it old-school, I believe they may be referring to a band like the Queers. They play the Cretin Hop tomorrow at 5 pm with the Riptides, Kepi Ghoulie and the Sissies. $15. All-ages.
And for a little afternoon rockin', head to the newest purveyor of all things green in Spokane — Sun People Dry Goods — for a performance by one of our favorite new local bands, Our Mother the Mountain. It's free, all-ages and goes from noon to 2 pm. So bring the kiddos. The store is located at 24 W. Second Ave. Ugly sweater may be frowned upon.