TONIGHT!
The Museum of Arts & Culture takes a break from biting its nails over potential budget slashing to throw its once-per-month soiree, BeGin! This month features unmistakably Northwest music by John Blakesley and his band, Hey! is for Horses, who we profiled here. At the MAC. 6 - 8 pm. Free. All-ages.
A sort of pre-func to next week's CD release show, Kari Marguerite & the 76 brings soulful, jazzy female-fronted rock (think Sara Bareilles, Fiona Apple) to Left Bank Wine Bar tonight. 7 pm. Free. Gotta be 21.
One of the hardest working pop-punk bands in the area, Small Town Nation, plays its poppy standards for the kids at an early Aclub show. They share the bill with To Paint the Sky, Far From Ideal and Not for Now. 6 pm. $5. All-ages.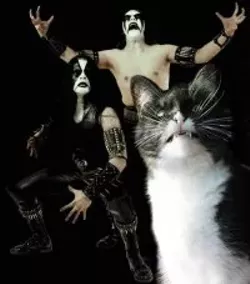 TOMORROW!
Local Celtic band
Floating Crowbar
set up all of their equipment one night a couple of years ago and played their songs straight through — recording all the while. They loved the unpolished sound that they captured, and they'll release that recording tomorrow night at a CD Release show at the Bing Crosby Theater. 7:30 pm. $16 - $22. All-ages.
Though they don't have a live band playing with them, there will be plenty of singing and music bumping all night long at Pasties & Paddles' latest performance, the Black & White Show. Arrive at the Spotlight Lounge (321 W. Sprague, formerly the Emperor, Trickshot Dixies) in black and white clothes for the always-entertaining local burlesque show. Presale tickets are sold out, but P&P says there are plenty of spots left. Check out the latest story we wrote about the group here. 9 pm - 4 am. $10. Gotta be 21.
For the complete opposite of that, head to the Knit for a delightful black metal show. We're more stoked about seeing Nachtmystium (who we profiled here) than Cradle of Filth, but that's just us. Daniel Lioneye and Turisas open. 7 pm. $22 - $25. All-ages.
Last, but hardly least, check out the Terrain-esque part-ay happening at the Vault (120 N. Wall, on the brick street). It's the official closing party for the Spokane International Film Festival and will feature performances by Som Jordan and the Flying Spiders (who we wrote about here), MJ the Human Beatbox (who we profiled this week here) and DJ Benjamin Jorgens (a musical wunderkind we wrote about here). Beer, wine, awards… should be fun. 9 pm. Free. Gotta be 21.