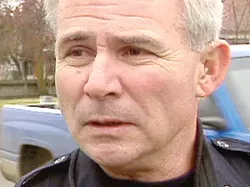 It happened in Yakima. More than five years after Otto Zehm walked into a Spokane Zip Trip to buy Pepsi and a Snickers.
A jury of 12 heard the evidence against Spokane Police Officer Karl Thompson — who beat Zehm 13 times with a baton inside the Zip Trip — and found the veteran officer guilty of using excessive force and lying to federal investigators.
The jury reached a verdict this afternoon after about two days of deliberation, and after four weeks of trial testimony. Their decision was unanimous. It was first read by the judge, who then asked each member of the jury to raise their hands if they supported the verdict. The judge then thanked them for their service and dismissed them to retrieve their belongings and go home.
Thompson was also allowed to go home for now. Federal prosecutors had asked the judge to immediately detain him, but the judge delayed that decision until a future hearing.

For more on the Zehm case, visit
Inlander.com/ottozehm
.