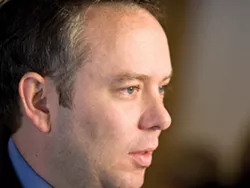 This morning, Spokane mayor-elect David Condon circulated a letter addressed to council president Joe Shogan and signed by Condon and a group of existing and incoming conservative leaders, asking Shogan to wait before adopting a new contract with Local 270, the union that represents more than 1,000 city workers.
"It runs against the long American tradition of political fairness tohave a lame duck Mayor and lame duck Council adopt a multi-milliondollar contract effecting a thousand employees when there is less than amonth left to their terms," read the letter, which was signed by the mayor-elect, sitting councilwoman Nancy McLaughlin, and incoming council members Steve Salvatori, Mike Fagan and Mike Allen, all of whom ran on conservative platforms.
A tentative deal struck earlier this month between the union and Mary Verner's administration included a voluntary, three-year pay freeze for the union but also left in place certain scheduled raises of up to 5 percent.
The letter's signers aren't happy about that.
"This last minute, rushed, and unnecessary contract short-circuits theprocess needed in the months ahead and short-changes both theAdministration and the employees of our City," they wrote on Saturday morning.