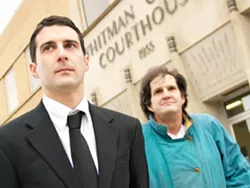 "Jury is about to read the verdict...send positive vibes! Much love!"
Tyler Markwart (pictured, left) texted the above message to his Facebook page at about 1:30 Tuesday afternoon from inside the high-ceilinged, wood-paneled courtroom in Colfax, Wash., where he was acting as his own attorney to fight five felony drug charges.
As the next hour crawled past without an update, it became clear that Markwart, 30, not only lost his case, but was likely immediately taken to the Whitman County Jail as well.
"The verdict was guilty on all counts," confirmed Whitman County deputy prosecutor Bill Druffel.
A jury took about 90 minutes to convict Markwart, the first of two medical marijuana growers to face jury trials in Whitman County Superior Court, on three counts of distributing marijuana, one of possession with intent to distribute and one of manufacturing (growing pot plants in his Pullman apartment), all Class C felonies. The Inlander reported on the men's trials last week.
Superior Court Judge David Frazier set sentencing for Jan. 13.
Markwart has no previous criminal history and, depending on how he "scores"during pre-sentencing assessment, would normally face prison time in the six-to-18-month range, possibly making him eligible to serve time in a county jail, Druffel said. But, the prosecutor continued, the weapons enhancement (Markwart had a Beretta pistol and a Mossberg pistol-grip shotgun in his apartment) means an 18-month minimum sentence in state prison with no provisions for earning good time toward an early release.
Markwart was a senior at Washington State University when he was arrested last April by the Quad Cities Drug Task Force.
Markwart had openly supplied 15 clients, all with valid medical marijuana cards, with the drug. He, like many other medical marijuana providers in Washington, said he was trying to push the state to allow providers to have more than one client.
Markwart had taken a job over the summer in Seattle to raise money for his defense and noted, on Facebook posts and during interviews last week, that he cleaned out his apartment and gave notice to his employer in case he was convicted. It was the wrong thing to do, Druffel said.
"I was trying to have pre-trial release conditions reimposed," Druffel said, allowing Markwart to go free on his own recognizance, "but I deferred to the judge. There are means and mechanisms for him to be released pending sentencing ... but at this point, and based on Mr. Markwart's own statements to the court today, which were 'I have no home, I have no job.' … For a judge to be convinced, especially now that a defendant is facing a prison sentence ... you need to encourage a judge that you are not a flight risk. He [Markwart] said the exact opposite of what Judge Frazier needed to hear him say."
Frazier reappointed the county's contract public defender, Steve Martonick, to to be standby counsel to represent Markwart at sentencing. Markwart fired Martonick in September over a disagreement at being urged to accept a plea deal instead of going to trial. The "door is always open" for a motion that allows Frazier to release Markwart before sentencing, Druffel said.
Adam Assenberg, 51, is another medical marijuana provider who was operating openly in Colfax when he was raided several weeks after Markwart's arrest. Assenberg is now being represented by Spokane attorney Doug Phelps and his trial, originally set for next week, has been rescheduled for February.