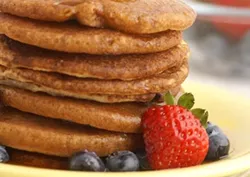 Hip hip hooray for butter! In honor of National Pancake Day, I-Hop restaurants in Spokane and Coeur d'Alene will offer free (almost) short stack buttermilk pancakes in exchange for a donations to ten Northwest hospitals.
Organizers hope to raise $2.7 million for the charities.
Donations can be made to the Children's Miracle Network, Providence Holy Family Hospital, Providence Mt. Carmel Hospital,Providence Sacred Heart Children's Hospital, Providence St. Joseph'sHospital, St. Luke's Rehabilitation Institute, Kootenai Medical Centerand Inland Northwest Health Services.
Get in on thegoodness from 7 am-10 pm at all locations.