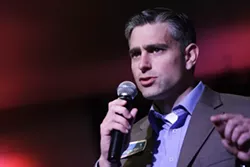 Republican U.S. Senate candidate Michael Baumgartner would like an alleged Democratic operative to stop following his wife around.
The Spokane-area state senator sent a letter to the Washington State Democratic Party chairman on Wednesday asking him to call off a man who he claims followed his wife in a truck through a Lakewood parking lot.
"It is a privilege to be a public servant, but our family shouldn't have to put up with you paying some creepy guy to follow my wife and harass her," the letter reads. He says the man has shown up in the Senate chambers in Olympia and at campaign events to film Baumgartner in order to "capture my statements for future use in negative advertisements."
A spokesman for the state Democratic Party did not immediately return a call for comment.
Baumgartner announced that he was running against incumbent Democratic Senator Maria Cantwell last October.