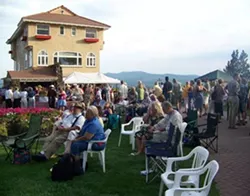 After a glass of wine, do you find yourself more refined? Speaking poetry, architecture, and astronomy and wondering where you left that toga? If yes, get in the Roman spirit of this party and celebrate Spokane Public Radio's annual fundraiser with an evening under the stars and August's first full moon. The event goes from 6-10 pm.
During the feast, Paul Grove and Rhonda Bradetich serenade with acoustic and instrumental music. Later, the Diminishing Faculties break out some rock music. Prizes are awarded for best toga.
The cost to attend this event is $42 for the general public and $37 for members of the Spokane Public Radio. Because it's on the winery's grounds, only those over age 21 can attend.