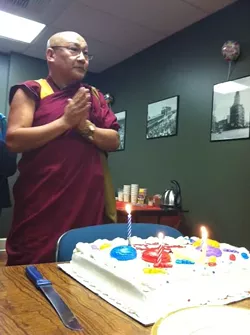 When we interviewed Geshe Thupten Phelgye, one of the saddest subjects he spoke on was the young Tibetan Buddhists who are setting themselves on fire to protest China's occupation of their homeland (our story here.) Phelgye is a Tibetan Buddhist monk now in residence at Gonzaga University (that's him getting some birthday cake earlier this year).
The immolations continue to grow in number. Seven more have reportedly doused themselves in gasoline and burned in the past week alone, according to a Washington Post story out today. Chinese authorities, in fact, are offering big cash rewards to people who alert them in advance about suicidal protesters.
Phelgye wasn't optimistic about China leaving his homeland anytime soon.
"It's very difficult, it's very unfortunate, very painful, what can I say?" he told me in the interview. "Unless China's authorities give some consideration over their problems, I don't see so much change coming."