Congratulations to our Yo Gabba Gabba Coloring Contest winner, Amelie! She gets the opportunity to attend the Yo Gabba Gabba event at the INB Performing Arts Center tonight at 6 pm.
---
Amelie, age 5 — "We liked how bright the colors were, and how she filled in all the areas that needed to be colored," say the judges. Notice the artist's attention to accuracy of the character's colors, but also that she's not afraid to color outside the lines.
"They all did great, considering their ages — and we wished we could have picked them all, but we didn't have enough tickets to give away," the judges added. Here are some additional favorites:
---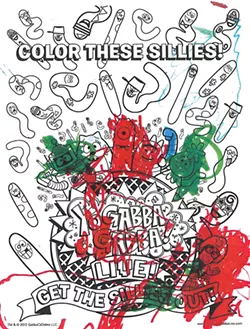 Patrick, age 2 — This work is reminiscent of an early Pollock or Rothko. Keep doing your thing, Patrick.
---
Andrew, age 5 — Do I see a double rainbow? I think yes.