The Inlander asked a handful of local public figures to tell us about their Spokane Restaurant Week experience, and what they look for in local dining. Read additional responses and other previous coverage here.
On the final Friday of Spokane Restaurant Week, former congressman George R. Nethercutt Jr. dined with his wife at Casper Fry on South Perry Street. From the restaurant week menu, Nethercutt chose the bib lettuce garden salad, Josper roasted one-half chicken with smoked potatoes and, for dessert, pecan pie with caramel sauce.
"Mary Beth, calling on her Southern roots, chose shrimp and grits because she recognizes the real thing," Nethercutt reported.
He also answered additional questions from The Inlander:
What kinds of food did you love as a kid, and what kinds of restaurants and cuisines do you prefer today?
As a child, I enjoyed basic fresh food: vegetables, fruit, meat, potatoes, chicken and fish. I enjoy today restaurants which serve fresh food and offer a lively and pleasant atmosphere.
How was your experience at Casper Fry?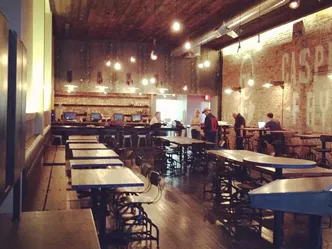 My wife and I chose Casper Fry restaurant because she hails from South Carolina and Casper Fry specializes in Southern cuisine. All dishes were freshly and imaginatively prepared, politely and efficiently presented and fairly priced. This is a restaurant that can compete in any city in the U.S. for ambience, menu selection and skillful presentation.
Mike the waiter was excellent, Deb Greene the owner was gracious and active, and all patrons I observed were thoroughly enjoying the Casper Fry experience. Mary Beth and I loved this restaurant, its smart and interesting interior and the friendly nature of every employee we encountered.
What do you think of Spokane Restaurant Week?
Restaurant Week is a delightful addition to Spokane's social scene that every consumer who appreciates fun and food should experience, because Spokane's restaurants can compete with any restaurants anywhere. I only wish it would last longer than one week!