With nearly 400 different dishes on the collective Spokane Restaurant Week menu, it would take larger stomach (and budget) than we've got to try every dish. But we've been making lists of dishes that caught our eye, including vegetarian and gluten-free options.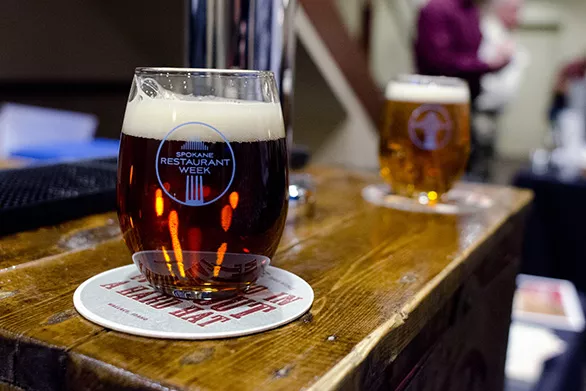 The best way to wash down a nice dinner is with a local beer or wine, and the Drink Local list gives you a nice selection if you don't know where to begin. (We've previously recommended Wallace Brewing and the No-Li Wrecking Ball Imperial Stout, if you come across those.)
At the Post Street Ale House, where a three-sampler flight or pint is on the Spokane Restaurant Week meal as a second course, they've got the Red Light from Wallace Brewing and brand-new IPA from River City Brewing on tap. The District Bar also includes a pint with your meal.
But why confine the alcohol to your glass? Add a little extra with these boozy dishes.
1. Bailey's Irish Cream Chocolate Mousse at Anthony's
Menu says: Anthony's signature recipe!
We say: Anything sweet has got to be better with Bailey's.
2. Whiskey and Shitake Grilled Sirloin at the Steelhead Bar and Grille
Menu says: Over sauteed sweet onions and served with parmesan fried red potatoes and fresh steamed broccolini topped with house-made hollandaise sauce.
We say: No other entree starts with the excellent word "whiskey." And, with some red wine mentioned in one of the appetizer options and Kahlua in one of the desserts, you can forgo temperance for all three courses.
3. Pepper Crusted Jack Daniels New York Steak at Remington's @ Ramada
Menu says: Crushed peppercorn crusted flame broiled 8 oz. New York steak finished with sweet Jack Daniels glaze; served with roasted garlic mashed potatoes, fresh sauteed vegetables and bread service.
We say: Way classier, not to mention tastier, than a Jack-n-Coke.
4. Grandma's Bread Pudding at Longhorn BBQ
Menu says: Topped with a brandy drizzle and a dab of soft-serve ice cream.
We say: We can almost see Grandma winking in the kitchen.
5. Key Lime Pie Martini at Bistango Martini Lounge
Menu says: Stoli Vanil Vodka, muddled limes and a Splash of cream and graham cracker rim.
We say: A few places put a little booze in the dessert, but here they flip the ratio and put a little dessert in the martinis. Genius.