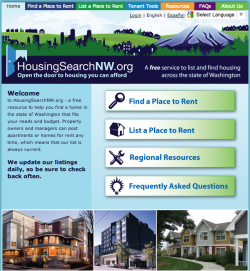 Those looking for affordable housing in Spokane have a new resource:
HousingSearchNW.org
.
The site is a newly launched clearinghouse of the state's available rentals with an emphasis on helping those who receive government rental assistance. Available filters — along with the typical location and price questions — include accessibility for the disabled, proximity to public transit and whether the person searching has a housing voucher.
The site is the product of last year's House Bill 2048, which directed local governments to set up and maintain lists of landlords interested in renting to low-income and homeless individuals and families.
"The intent is to connect private landlords that do not traditionally receive the pass-through of these housing dollars, with eligible clients," according to the Spokane County Community Services, Housing and Community Development Department. "Jointly, Spokane County and the City of Spokane work to encourage all landlords across Spokane County to register at www.housingsearchnw.org."
While many low-income or homeless households may not have regular internet access, Spokane Low Income Housing Consortium Director Cindy Algeo says local social service agencies will use the site to help their clients find housing. The new system is easier for landlords to use, Algeo says, which she hopes will result an upswing in the number of properties listed.