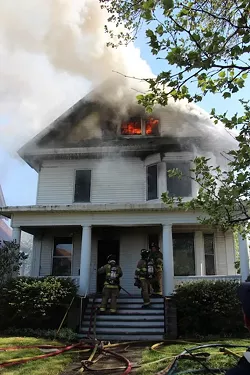 A house fire that destroyed a century-old home on Nora Avenue and made big headlines late last week was home to a woman whose story we told you during our Injustice Project series in 2010.
In "Unforgiven," Unconia Al-Hajri spoke about her struggle to turn her life around after a methamphetamine charge. Despite getting clean and graduating from drug court, she had trouble finding a landlord who would rent to her. Now, she and her 5-year-old son are struggling to rebuild their lives from the fire that destroyed the house where they lived on the third floor. Officials are still investigating its cause, but Al-Hajri says they believe it could have been caused by residents barbecuing in a fire pit on the patio. Al-Hajri had left to pick up her son from school just 10 minutes before the fire broke out.
Since, the Red Cross helped them find a temporary place to stay and she's gotten a few donations of clothing for her son, but she's worried about what comes next.
"We really need help," she says. "I have no clue how to even handle something like this. … We have nothing."
You can donate to the family through an account under Al-Hajri's name at Spokane Federal Credit Union. (Another of the families living in the house has set up a fundraiser here.)