The White House announced this afternoon U.S. Army Staff Sgt. Ty Carter, a graduate of North Central High School, will receive the nation's highest military honor next month for "conspicuous gallantry" under enemy fire in Afghanistan in 2009.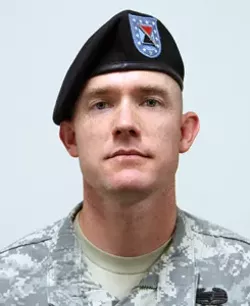 On Oct. 3, 2009, Carter served with the 61st Cavalry Regiment during an intense battle at Combat Outpost Keating, in which more than 400 enemy fighters attempted to overrun the facility. The
official narrative
for Carter's Medal of Honor states he faced "heavy small arms and indirect fire" for more than six hours.
"Carter's remarkable acts of heroism and skill, which were vital to the defense of COP Keating, exemplify what it means to be an American hero," the dramatic narrative recounts.
The staff sergeant becomes the fifth living recipient to earn the Medal of Honor for actions in Afghanistan or Iraq. He is scheduled to meet with President Obama on Aug. 26 to receive the award.
Of the 54 members of Carter's B Troop, eight solders died in the Keating attack and more than 25 were injured during several hours of intense fighting.
Former Army Staff Sgt. Clinton Romesha, of Minot, N.D., also received the Medal of Honor in February for his actions during the same battle.
The Army has launched a special page recognizing Carter's honor with information on his service record, commendations and personal history. The official narrative of the battle at COP Keating is also available.
ABC correspondent Jake Tapper recently released a book, The Outpost, about the battle at COP Keating.
Carter, 33, was born in Spokane in 1980. He spent his early years in California before moving back to Spokane in 1991. He graduated from North Central High School in 1998 and initially enlisted in the Marine Corps. He later re-enlisted in the U.S. Army in 2008.
He now serves with the 7th Infantry Division based at Joint Base Lewis-McChord near Tacoma.