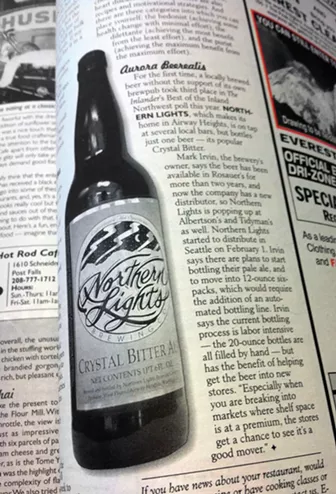 Tonight the Inlander is hosting a special edition of the Suds & Cinema movie series to celebrate our 20th anniversary. The local brewery this time will be No-Li, which is appropriate since the brewery also got its start 20 years ago in 1993 when owner Mark Irvin started up a little operation in Airway Heights called Northern Lights Brewing Company. To the right is a writeup I came across in the 2000 archives, when Northern Lights first showed up among the Best Of winners.
Don't miss our great nacho hunt in this week's issue. And it's also the first Snowlander content of the year, which is worth noting because the Snowlander Expo this year includes the corresponding Powder Keg festival featuring local beer and cider.
Happy 90th birthday to Dick Spady of the famous Dick's Drive-In in Seattle, which is mostly a good excuse to remind everyone once again that Dick's in Seattle isn't actually related to Dick's here in Spokane.
Based on liquor and business licenses, it looks like the Logan-area Chapala is opening a second location downtown on Third Avenue.
ICYMI: As of this week, the Inland Northwest now has two breweries putting beer in cans. We're still waiting to see whether we spot Laughing Dog or Orlison on local shelves first, but it could be any day now.
One Tree Hard Cider didn't make its ambitious Kickstarter goal, but plans to move forward with a spot in Spokane Valley. They're still waiting on approval from the federal government, a process we wrote about this week because of delays from the shutdown.
This is another post ending up all about beer, isn't it? This week's Entree newsletter has an update about English Setter Brewing, with a taproom coming soon in Spokane Valley, and the little bit we know so far about Cloudburst Brewing.
Also, the New York Times Magazine did their big annual Food & Drink issue, which features potatoes from Idaho and a giant octopus in Seattle, among other things.
Have you browsed our new online calendar? It's much easier to find food events now. (And easier to submit them.)
Read previous food news here.