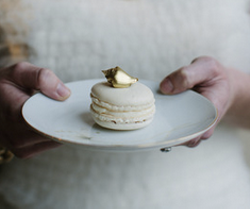 Batch Bakeshop, a baked-goods favorite at the South Perry Thursday Market and area coffee shops, is making plans for a dedicated storefront by early next year. And if you want to help and get tasty rewards like shortbread cookies or party cakes, they launched a Kickstarter campaign this week.
This week's Entree newsletter has an update about drinking-and-painting establishment Pinot's Palette and the news that Chairs Public House will be opening as soon as next week:
In the mornings Chairs Public House will be very much a coffee shop, but in the evenings it will turn into a bar, [Chris] Nichols says, adding that ideally they're hoping to be open from 6 am- 2 am. They plan to serve the full gamut of coffee, espresso, beer, wine and spirits. Expect it to be "gastropub-ish," Nichols says.
Read the rest here. Sign up to get Entree in your inbox every Thursday here.
Daybreak on Ash, a coffee shop and cafe that's also applied for a liquor license, is planning on a December grand opening.
It looks like there are new plans for the old Beignets space downtown on Wall near Madeleine's — a spot called Daiquiri Factory. Could this be related to the Daiquiri Factory empire in Houston and Rock Island, Illinois? Or the one in Atlanta? We'll keep you posted.
If you missed it last Friday, the old Berg's Shoes spot by the Davenport is being transformed by design firm HDG into a noodle shop.
Forgot this one last week — we could be getting some new restaurants (eventually) on Main across from the Liberty Building. The former Dutch's building was purchased by investor Chris Batten and Bobby Brett, owner of the Spokane Chiefs and Spokane Indians teams, with the intention of restoring it. Brett told KXLY: "I'm hoping we can get some restaurants on the ground level, and also some retail establishments."
If you happen to be in Harrison this weekend, the Tin Cup will be having a pie tasting on Saturday to help you make decisions about what to order for the holidays. Or just to eat pie.
One of the "big beers" we mentioned recently in our Dining Out guide was the seasonal Dogfather Imperial Stout from Laughing Dog — and it's back!
Santa's Little Helper from Doma Coffee Roasting Company is almost back for the season. The coffee is great, but part of the fun is seeing the new bag artwork by Chris Dreyer.
Everyone wants to see the Oscar Meyer Weinermobile! Stop by! Get a Weiner Whistle! I don't totally get the appeal, but I love this from KXLY:
Hannah Carlson and Michael Tierney are two of 12 recent college graduates selected to drive Wienermobiles across the country for one year after college. Almost six months into their journey, Hannah and Michael have visited 24 states. Hannah said she was driven to apply for the Hotdogger program by the absurdity of driving a giant hot dog around.

"There's only going to be a few instances where I can drive around in a hot dog and have it be acceptable," said Hannah.
LA Weekly has this interesting piece about the demise of longform, professional food writing and the overreliance on press releases. Yeah, check the liquor licenses, you lazy bloggers.
Finally, from a… let's just say reader, further evidence that nothing good ever comes from a late night at Shari's.
Read previous food news here.