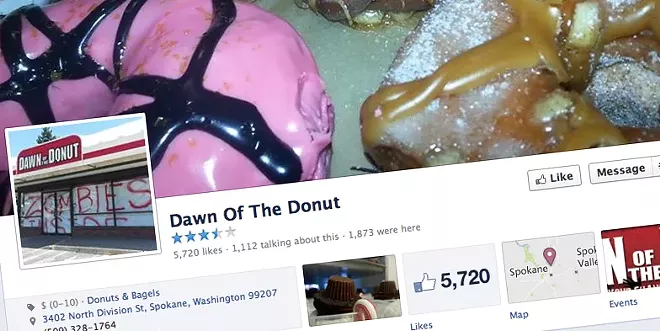 The finger pointing and accusations we reported on last week seem to be put to bed with the controversial Dawn of the Donut artwork. The flood of angry responses on DOTD Facebook site seems to have actually paid off. DOTD took down all of their previous logo and have replaced it with placeholder donut pictures.
Today, DOTD posted this on their Facebook:
"We are thrilled to be working with John Sumrow to create a joint project of zombies for our shop and promote his art. Keep checking for updates!"
Likewise, on artist John Sumrow's Facebook page he also posted what appears to be an agreement:
"Just got off the phone with @dawnofthedonutzombie in Spokane WA. We are in talks to resolve the stolen artwork issue. Thanks to all my friends & fans for the support! You guys \m/"
We reached out to Sumrow and he informs us that nothing really has been set in stone yet, but "most likely I am going to remake the artwork for them." Sumrow also notes that DOTD reached out to him and were very humble and apologetic, and that he is going to retain licensing rights.