TONIGHT, TONIGHT, THE WORLD IS WILD AND BRIGHT
The Lantern Tap House continues its run of noteworthy shows with Hannah Reader and Dust and the Blood at 10 p.m. tonight. The music will serve as entertainment for the Lantern Winter Beer Fest, which flows all weekend. Find more information on the event here.
SATURDAY
The Bartlett's Grand Opening Weekend concludes with a show that is, as of posting, not sold out yet. The show will feature indie surf rockers Surfer Blood along with Psychic Rites and BIAS. The show will begin at 8 p.m. and is $20 at the door.
Portland's Lady Problems meet up with Bloody Gloves and Dumpster Burger to show the Baby Bar a hell of a good time Saturday. It costs no money to attend and begins at 10 pm.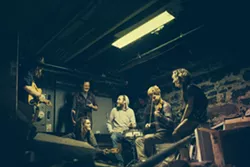 The Rustics finally unload their brand new EP, Be Here Now, at Bing Crosby Theater Saturday with the help of Cami Bradley and Hey! is for Horses. The all-ages show starts at 8 pm and is $12.
SUNDAY
For all you Macklemore and Ryan Lewis fans out there, the hip-hop duo is set to perform during the NFC Championship game's halftime at CenturyLink Field. Hopefully, the performance will be shown on TV.
MUSIC FESTIVAL UPDATE
Yes, it's coming to that time of the year when prominent music festivals around the country begin to unleash their lineups for 2014.
Boise's own Treefort Music Fest recently announced bands like Horse Feathers and Perfect Pussy, along with Spokane acts Hooves and Cathedral Pearls will play its event March 20-23.
Coachella pulled Outkast and already sold out, and the New Orleans Jazz Fest scored Eric Clapton and Phish. Meanwhile, Sasquatch! will announce its lineup come Feb. 3 at a launch party in Seattle.