Like last year, the Inlander and Visit Spokane invited a handful of local public figures to dine out for Inlander Restaurant Week and tell us about the experience. Here's the first one of 2014.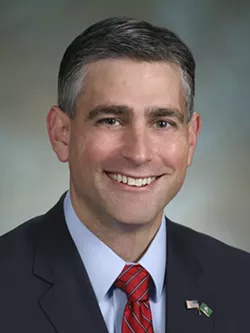 On the first weekend of this year's Restaurant Week, state Sen. Michael Baumgartner, who represents the 6th District in Spokane, went out to eat at Santé Restaurant & Charcuterie with his wife, Eleanor. They left the restaurant talking about the other places they'd like to try, Baumgartner says. "My only complaint," he reports, "is that it's in February — the same time of year that I have to be away in Olympia!"
Baumgartner took the time to answer a few additional questions.
What kind of food did you love as a kid and what kinds of restaurants and cuisines do you prefer today?
Growing up I was a big fan of everything my mom made. She was a kindergarten teacher with three growing boys, so she knew how to cook nutritious and fast meals. Her lentil stews and popcorn chicken were always a favorite, and almost every Tuesday was "spaghetti night."
Today, my wife and I both enjoy an eclectic range of cuisine that we were introduced to living and working overseas. I've been to more than 70 countries and she's been to nearly 50, so we've tried a lot of unusual dishes from goat's head in Yemen to camel burgers in Bahrain. We're both big fans of Middle Eastern cuisine and Indian curries — and wish that Spokane had more of those options. We met in Afghanistan and Eleanor is a big fan of northern Afghan cuisine — me, not so much!
What did you and/or your dining companion choose from the pre fixe menu and why?
My wife and I were thrilled to have the chance to go to Santé. We're both French speakers (albeit pretty rusty these days) and I grew to love French food while studying abroad in the Savoie region of France during my third year at WSU. I'd been wanting to go to Santé for some time, but hadn't had the opportunity until now. It didn't disappoint!
For the starter I had the beef heart tartare and Eleanor had the chicken liver paté. Both were delectable but the tartare was truly excellent — beautifully seasoned and not overwhelmed by the egg yolk.
For the entrée I had the braised pancetta and Eleanor had the coq au vin. Both looked fantastic on the plate, and tasted even better. The Santé team certainly knows how to present food. The kale and white wine sauce accompanying the pancetta balanced in both color and taste. Our server explained that the portions for Restaurant Week were slightly smaller than normal, but we thought they were just right.
For dessert I had the English cream and truffle and Eleanor had the chocolate torte. Eleanor is a real chocoholic and wasn't disappointed with the torte. The warm vanilla cream accompanying the rich truffle was exquisite.
All of our menu choices were food that you would typically not cook at home (especially if you have two toddlers!), made with ingredients that are obviously high quality and mostly locally sourced.
One of the highlights of our visit to Santé was the staff. Our main server recommended an excellent wine to accompany the food, and the hostess was exceptionally friendly.
How would you describe Restaurant Week to your friends and family?
Restaurant Week is a fun way to get a "taster" of the superb local cuisine that Spokane has to offer, while supporting some great local businesses. The prices are affordable and the fixed price menu approach allows each restaurant to put its best foot forward without breaking your wallet. If there is a Spokane restaurant that you thought you might like to try, but hadn't gotten around to it yet, Restaurant Week is the perfect excuse to make it happen.
What was your favorite thing about your Restaurant Week dining experience?
My favorite part was that we used it as a celebration of our new baby daughter Victoria. Our wonderful evening at Santé was our first dinner out since Victoria was born, and it was a great way to celebrate her fantastic mother with some fantastic food!