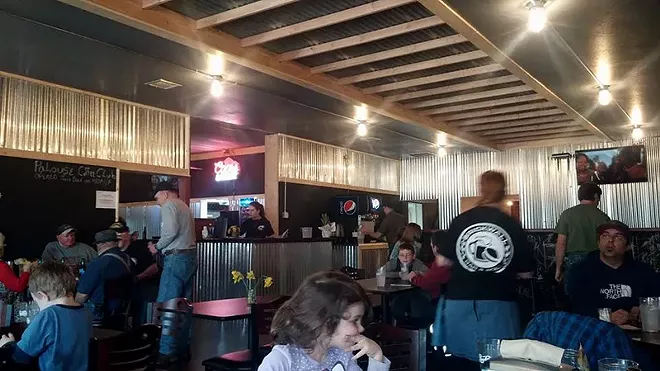 The Brick Wall Bar & Grill in Palouse burned to the ground Monday night, right before its first official day open. The fire started around 4 am from an undetermined cause, and historic building was a complete loss. A portion of the wall of names that long predated the current business may be salvaged. A recovery fundraiser is happening Sunday.
Madeleine's is moving! The downtown cafe on Main Avenue will be relocating a few blocks to the east this fall to be next door to the owners' new spot, — Durkin's Liquor Bar, opening this summer — where Dutch's closed last year. The buildings are being completely renovated right now, and the new Madeleine's will have a bigger bakery, two espresso machines and outdoor seating in a courtyard out back.
Wisconsinburger on the South Hill is now open.
Not-yet-open Cloudburst Brewing in Post Falls is changing its name to Downdraft Brewing Co. More on why in this week's Entree newsletter, as well as the fact that Saturday is National Grilled Cheese Day.
Donny's Place, an upscale family-owned restaurant that earned a number of passionate fans during the year it was open, has now permanently closed.
Nudo, getting close to opening downtown, is owned by Josh Hissong of the design and archicture company HDG. So he's got multiple reasons to be excited about their new hydraulic door.
Preview of NUDO door from Travis Knight on Vimeo.
Tamarack Public House, just a bit down the street from Nudo, is looking to open in time for Hoopfest in late June.
Fat Daddy's on Division, which closed at the beginning of this year, is undergoing a big remodel to relaunch later this spring as Selkirk Pizza and Tap House.
The Lantern Tap House is celebrating its 5th anniversary with multiple weeks of events and live music.
The student government at WSU is hosting "30 Days of Pullman" this month with a different special each day at businesses around town, including food deals like buy-one-get-one-free ice cream at Licks, 20 percent off any food item at My Office and $2 off a hard cider sampler at the Cider House. Today happens to be one of the more special occasions — Chocolate Decadence, which kicks off the university's Mom's Weekend with free chocolate at 26 locations around town.
Also in Pullman, fine dining establishment Swilly's is closed while relocating to the BellTower building nearby. Taking its place in the historic building on Kamiaken is Porch Light Pizza, which is hiring now and getting close to opening.
Barrister Winery and Latah Creek Wine Cellars both took home big awards from the second annual Great Northwest Wine Competition.
No-Li is launching a Charity of the Month taster program, which means each taster try comes with a $2 token that customers can use on merchandise or put toward that month's charity. At the suggestion of chef Branden Moreau, the first charity is Big Table, which supports workers in the restaurant and hospitality industry and, incidentally, has just moved into new downtown digs across from the Spokane Club.
Last but not least, two tie-ins for the Get Lit! festival this week:
Tonight is Pie and Whiskey at the Woman's Club, which is basically what it sounds like. Pie, whiskey, short readings. If you haven't gone before, get there 30 minutes earlier than whatever time you were planning. Doors open at 8:15 pm.
Santé is offering literary cocktails for National Poetry Month — last week's was Gin Eyre, this week's is Last of the Mojitos.
Read previous food news here.