This week's project about Sprague Avenue is told geographically, but along all 17 miles we also found stories about time and history and how places have changed. The longest history is in downtown Spokane, where blocks along Sprague were among those that burned to the ground in the Great Fire of 1889. In the early part of last century, it was home to theaters, broadcast towers, cigar shops and Jimmie Durkin's famous liquor store.
Here is the view looking west on Sprague from just before Stevens. You can see the City Ramp garage on the far left in both images, as well as the Davenport in the distance.
See the full Sprague project here. See the poem by Spokane Poet Laureate Thom Caraway here, and a video of the full length of Sprague here.
The slider may not work well on all mobile devices, so here are both photos side-by-side: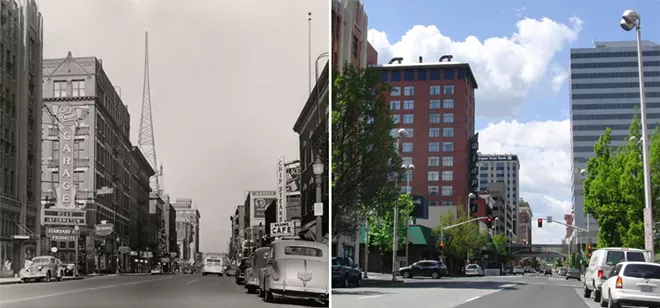 Thanks to Ryan Pitts and Mike Tigas, both formerly of the Spokesman-Review, for making their Then-and-Now source code openly available here.