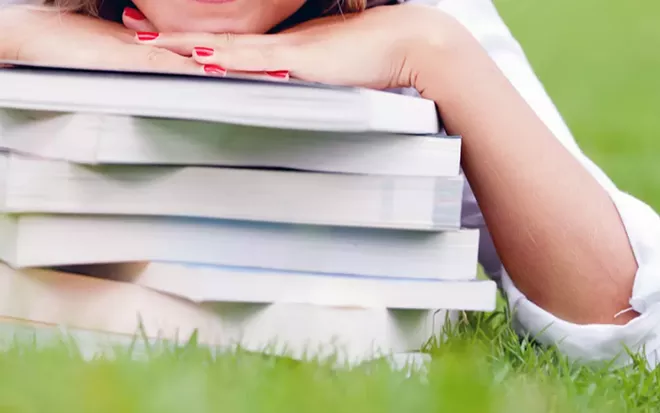 Like the all-too-familiar chorus of an Alice Cooper song, school is out for summer. (Or really close.) And with the final bell arrived something we only remember faintly from last August — free time.
There is no luxury quite like it, and few things better to fill it than a stack of books and a summer reading list. The public libraries of Spokane, Coeur d'Alene and Spokane County are ready for the school vacation with a multitude of programs to fill the time and keep everyone's brain from melting a bit in the summer heat.
Calling all Chemists
The subject of the summer is science, and they're coming at it from all angles. "Fizz, Boom, Read!" is the title of the kids summer reading program, while teens will be following the theme "Spark a Reaction." Reading lists reflect this theme, and program activities are science-based.
The Downtown Spokane Public Library is hosting the Discover Earth traveling exhibit, which will be on display through August and features hands-on learning stations.
The Coeur d'Alene Public Library hosts a Library Lab (every Tues, 1-2 pm) for 7- to 12-year-olds, which gives kids time to work on their science stations, prepping all summer for the big Science Fair that is held at the end of July.
Age Don't Matter
This summer, Spokane Public Library started an Adult Summer Reading Program with a reading list formed for the grown-up bunch. Turn in a complete reading log, and you will be entered into a drawing for several prizes, including an e-reader.
The Spokane County Library District has an entire program of activities catering to adults. In the next few months, you can learn about how to homebrew your beer, listen to a lecture on DNA research, and practice your golf swing with PGA-certified instructors. The complete activities schedule can be found here.
The Fee? Free.
The Coeur d'Alene Public Library is waving the overdue fees of any kids or teens that pick up a reading log or participate in any of the program activities — all of which are free.
The giveaways are numerous. Finish 15 books or 15 hours of reading before Aug. 30, and you get to grab a free book from the giveaway book supply at Spokane Public Library. Sign up here. Teens in CdA can turn in their reading log to be eligible for a drawing at the end of the summer for a Kindle Fire HDX. More information and program registration can be done online at cdalibrary.org.