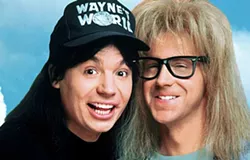 On
Thursday,
October 23
, we'll be screening
Wayne's World
as part of our ongoing
Suds and Cinema series
, which teams some sort of bonkers movie with beer from our robust local craft brewing scene at the Bing Crosby Theater.
For
Wayne's World
, we'll be bringing local lager makers
Orlison Brewing
, who will have four of their delectable beers on tap in the lobby before and during the film. Beers are just $4, as are tickets to get into the film.
We'll be opening the doors and getting beers flowing at 6:30 pm, with the movie rolling at 7:30 after a short introduction from our film history department, of course.
Also, we're using this night to also celebrate the
Inlander's
21st birthday. That's right, we're finally legal, baby! Check our ID if you want, it's all legit.
With that in mind, we'll be celebrating with a little help from Brain Freeze Creamery, who are making a special
Wayne's World
flavor called, appropriately, "
Schwing
." They'll be serving that surprise flavor up for free before the movie!
Also, because we're finally 21, we're keeping the night going with an after party at
Rock City Grill
immediately after the movie. There, you'll find food and drink specials, including an "
Inlander
-Red" martini and a yet-to-be-revealed cocktail called "The McGregor" named after the
brave founder of our dear paper.


In the meantime, please remember to get yourself properly trained in the ways of "Bohemian Rhapsody," cause we're going to be rocking the hell out of that come the opening credits. Some inspiration...
The dude who was so drunk he was arrested, but somehow remembered all the words in the back of a cop car:



A lesson from the Muppets!



How to make your kids indulge your childhood dreams:



High school kids in the '90s get a hold of a video camera, a few wigs and their grandma's car.


Oh, and remember to get that neck nice and stretched out before you meet us at the Bing.