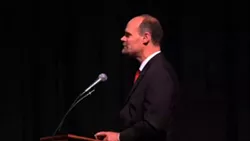 Mention the phrase "Tripp Umbach" to any business, political or medical leader in Spokane, and they should have at least some sort of reaction. Back in 2010, the Tripp Umbach consulting group, hired for $45,000 by Washington State University and Greater Spokane Inc., announced a massive economic impact if only Spokane could create a four-year medical school and use that to bring in research dollars and spin-off biomedical companies.
The University of Washington did not help fund that study. But as the debate raged over UW's plan to expand its medical school program in Spokane and WSU's desire to create an entirely new medical school, UW and their supporters have used Tripp Umbach as a major piece of their rhetorical argument. Stay the course, UW and GSI's current leadership says, and reap the rewards that Tripp Umbach has promised.
But WSU's supporters have countered that the Tripp Umbach promise hinged on a big influx of research dollars, that UW has failed to provide. UW promises to shift course and truly invest in Spokane have been met with skepticism by some big players in the community.
"Where WSU has been our partner from day one, UW was always who we had to pull along. We had to go to them to convince them," says Rich Hadley, former president of Greater Spokane Inc. when it funded the Tripp Umbach study. "We had to raise the money to do the feasibility study, we've had to raise the money to build the [new health sciences] building, we had to raise the money for the second year [of medical school.]"
But now, there's a new Tripp Umbach study. And it's been paid for by the University of Washington.
As part of an agreement, both schools have agreed not to officially oppose the others' proposal. But that has hardly stopped the intense campaigning. And this study was commissioned this spring, long before WSU's study was released and long before the agreement was reached.
This new Tripp Umbach study specifically compares the two options, and finds UW the superior choice.
"Tripp Umbach believes that the UW School of Medicine in Spokane at a cost of approximately $70,000 per student provides the most cost-effective option for the State of Washington" the report says. "Tripp Umbach believes that developing a new independent medical school is currently the most expensive option to grow the state's physician workforce." It praises UW's success in keeping students in the state and doesn't see the five-state region only having one medical school as a problem.
And it gets worse for WSU: The hope from the community that both programs could expand? Not an option, Tripp Umbach says.
"Eastern Washington cannot currently support two medical schools due to limited clinical training sites and limited residency training sites," the report says.
"The number of medical schools in Washington State is not relevant; what is important is the number of medical students and residency positions available in order to retain physicians," the report says. It points to Minnesota, where one larger university coordinates the training of large amounts of medical students, and contrasts it with Florida, where there are too few residency slots to handle the number of students being educated. Florida State University was WSU's big model for creating a new medical school.
Of course, there are many more available residency slots than medical students graduating from University of Washington. But as a proportion of the state's population, there are far greater residency slots per capita in Washington than the national average, and almost all on the West Side.
"Washington needs an additional 650 residency positions statewide," the study says.
Years of UW investment, WSU medical school advocates complain, has not produced new residencies in Eastern Washington. They say the political power and prestige of UW hasn't seemed to have been effective in that respect so far. It's been WSU (and Providence) that has created new residency slots recently. The study admits that UW is not currently very involved in the Spokane Teaching Health Center's efforts to produce those new slots.
But despite that, Tripp Umbach argues that UW is better poised to create new residency slots than WSU, pointing to current partnerships and UW's effort at "the federal level to develop a GME 'demonstration project' that would funnel considerably more resources to [graduate medical education] programs in Spokane and Eastern Washington."
It recommends that UW join the consortium with Providence and WSU to create new residency slots and create a biomedical research partnership to catalyze research.
The Tripp Umbach report does say the amount of research dollars that have come into Spokane Riverpoint has increased — from $12 million in 2009 to $22 million in 2014. Still, that's only a drop in the bucket — a little over 2 percent — of the $1 billion UW research behemoth.
"We are offering the most cost-effective, most feasible, and most immediate answer to the challenge of producing more physicians for the underserved areas of our state," UW President Michael Young said in a press release. "Our commitment to our students in Spokane and to the community is deep, and we intend to continue to serve the region and expand the UW School of Medicine in Spokane."
It puts WSU leadership in an awkward spot. While they have their own study proclaiming the promise of an independent medical school, they're on record repeatedly praising the work of the consulting group that now says UW's proposal is the best choice.
"For too long Washington state has produced too few physicians to meet the needs of our state," WSU president Elson Floyd says in a statement today. "As a result, many communities are facing a crisis regarding access to healthcare because we do not have enough doctors. While we welcome the University of Washington's announcement today about their intention to address part of this shortfall, it is simply not enough. While we support the expansion of WWAMI, we believe we must also pursue a new medical school at Washington State University. Only by doing both can we serve the people of Washington appropriately."

Hadley, a big supporter of WSU's proposal, says he wants to read the full report, but is confident that the state is underproducing doctors and could handle both.
"I really respect Tripp Umbach," says Hadley. "But I will say we've got to keep an eye on the ball … The fact is, the economic benefit to the community of Spokane comes from the university that actually anchors the program in Spokane and invests and hires the faculty and pays off in Spokane and spins off companies in Spokane."
But Michael Senske, the immediate past board chair of GSI, has a different take in the UW press release: "What this study makes clear is that it can happen quickly for the least amount of state investment — and with the best primary care medical school in the nation doing the work. That's a win-win if I ever saw one."