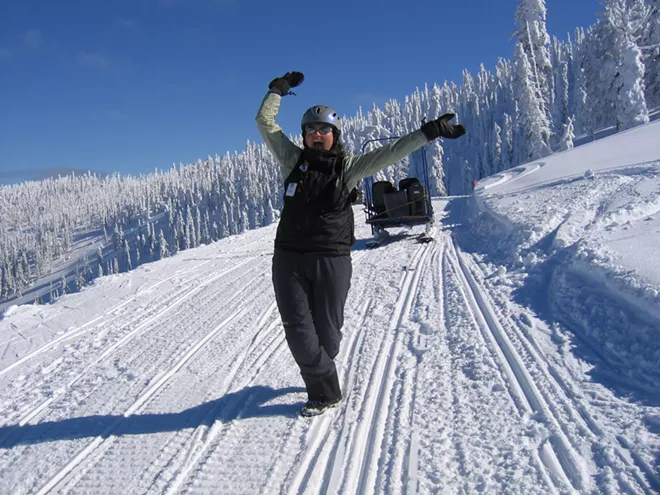 It was 11 years ago when I made the shift from a "real" job to working in the mountains. I left a good, consistent paycheck, great health insurance and a desk job.
At this time 11 years ago, I was one month into my new life, adventuring the streets of Sydney, Australia, with my 10-year-old niece, who is now in her junior year at Gonzaga. She was showing me the best places to get good sushi, cheap. And I was taking her to midnight showings of haunted IMAX films.
Upon my return to the states, I started my mountain-girl lifestyle as Base Area Manager of the Selkirk Powder Company at
Schweitzer Mountain Resort
. My life was surreal. I drove more hours on a snowmobile than in a car. I used a chairlift to commute to work. I was new to powder skiing, yet had access to as much of it as I wanted. I lived in ski clothes. I purchased my first pair of Carhartt's.
It wasn't until one late afternoon that I realized the magnitude of the decision I had made. It was after dark in mid-December. I was descending by snowmobile from the mountaintop operations center for SPC. As per normal operating procedures, I made the call on my radio, "This is Jen with
Selkirk Powder Company
, descending from the Great Escape Quad, down the Great Divide to Down the Hatch to the cat-track to the village." Once I heard the acknowledgement and the response on the other end to continue with my descent, I started up the snowmobile and started to make my way.
As I started down the Great Divide, I stopped immediately. The sheer beauty that surrounded me in every direction captivated me. While it was dark outside, the sun, as it was setting far to the west, was illuminating the sky. The moon was rising to the east, Lake Pend Oreille was covered by a low layer of clouds and was lit up by the brightness of the moon, sun and stars above.
I stopped to take in the moment.
I realized as I sat there, in that quiet moment, surrounded by natural beauty, how this was as real, if not more so, than any desk job.