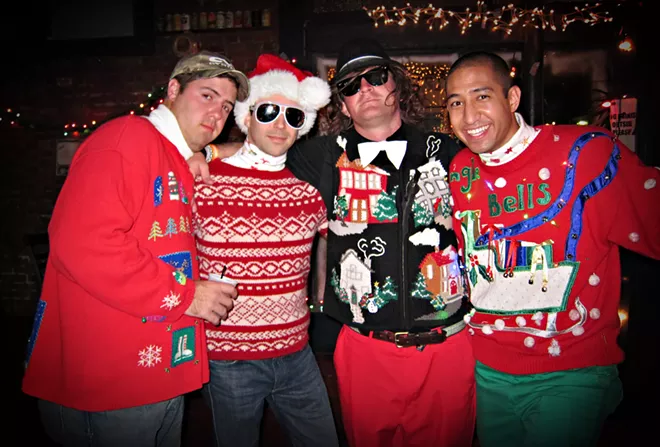 FRIDAY
If you make it to only one gathering of brutally tacky outerwear this season, make it the
Ugly Sweater Christmas Party
at the Big Dipper on Friday night at 7:30 pm. The stellar lineup includes local rock acts
Bard
(whose lead singer is named Patrick Stewart, and features an awesome saxophonist),
Bullets Or Balloons (
who hail from Spokane and Olympia),
Blackwater Prophet
(one of this year's
Inlander
Bands to Watch) and
the Smokes
(who aptly have a hip, smoky sound). Show up wearing the loudest holiday sweater you can find; it will pair well with the music. Cost is $10.
One singer-songwriter performing on stage can be quite inspiring. But why not add two more musicians, a spoken word poet and a visual artist to that performance stage? The Round, a new-to-Spokane collaborative art series, does just that. Already, Rounds have taken place in Portland, Seattle, Tacoma and Anacortes. Thanks to the Bartlett, the series is in Spokane too. For
Round No. 3
, which begins at 8 pm, performers include musical acts
the Rustics, Ian and Austen Case
and
Scott Ryan
along with poet Isaac Grambo and artist Nory. Cost is $8.
SATURDAY
Irish-influenced rock just hit Spokane hard in October with the Dropkick Murphys. The Young Dubliners will come through in February. But this Saturday's helping of Irish-American punk comes from L.A.-based
Flogging Molly
. On stage, Dublin-born lead singer Dave King leads his seven-piece band through some of the most wild, boot-stompin' music out there. The instrumental combination of fiddle, tin whistle and accordion with drums and fuzzy guitars is undeniably perfect for writing drunken lullabies (also the title of the band's biggest hit) — King's croaky. Irish accent-tinged voice doesn't hurt, either. With this show you don't have to wait until St. Patrick's Day to feel Irish. The all-ages show starts at 8 pm and is $33.
Jones Radiator brings in
the Woolen Men
and
Normal Babies
Saturday night. Hailing from Portland, the Woolen Men
play
fuzzed-out rock. Their music is a perfect accompaniment to Spokane's own Normal Babies (who were named a 2014
Inlander
Band to Watch
).
RECOMMENDED LATER IN THE WEEK
Tuesday at the Hop!,
Elektro Grave
presents Krampusnacht. Read more about the small but mighty Elektro Grave goth EDM scene
here.
Thursday,
Jessica Hernandez and the Deltas
and local rockers
Heavy Seventeen
(listen to their new music
here
)
hit the Bartlett. Read our story on the Detroit-based songstress
here.