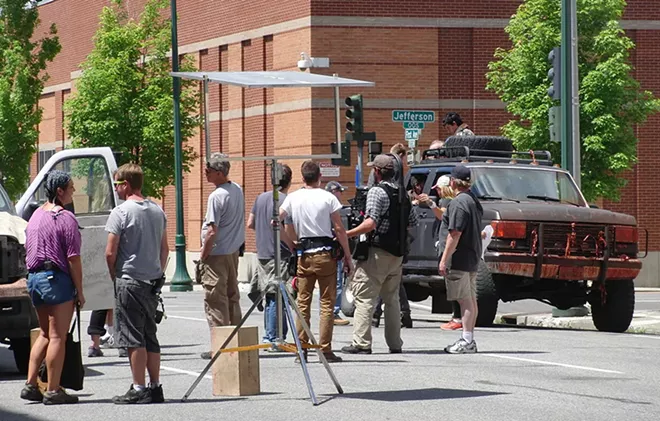 As the 2015 Washington state legislative session approaches, convening in Olympia on Jan. 12, interest groups all around are getting ready to make their cases for increased or maintained state funding. One of those is Washington Filmworks, the nonprofit tasked with managing the state's film production incentive program.
At an annual industry update last week at Nectar Tasting Room in downtown Spokane, Washington Filmworks' Director Amy Lillard, and Board of Directors Chair Don Jensen, shared successes of the year, and the organization's goals for the upcoming session.
Throughout this year, Washington Filmworks provided funding assistance for 13 TV episode (Z Nation), seven commercials, three projects at its Innovation Lab and one feature film (Captain Fantastic). That funding assistance was split roughly in half between projects in Eastern (51 percent) and Western Washington (49 percent).
Combined, projects in 2014 resulted in an estimated $33 million in economic impact for the state.
However, Lillard pointed out that even with those notable successes, Washington Filmworks was forced to turn away five big projects that would have generated an additional $55 million into the state economy. That's because Washington Filmworks' annual $3.5 million film industry incentive cap was spent by May.
Washington's film incentive program works like a cash rebate for qualifying productions made in-state. Funded by a portion of the state's business and occupation tax liabilities (corporations/individuals can choose to contribute to this fund, getting a dollar for dollar tax credit, up to $1 million), qualifying productions can apply to get 30 percent of what they spent here back from the state.
Washington's program to encourage filmmakers to work here is the fifth smallest in the nation, but interest in making films here is growing, Lillard told the group of about three dozen at the presentation last Thursday.
"We spent the summer looking to what we can do during the [legislative] session because it's hard to come up with the money," Lillard says.
While Washington Filmworks plans to ask state lawmakers to increase its incentive budget, Lillard says no official request has been determined at this point. However, if the state were able to take advantage of all the projects interested in shooting here, an estimated $24.3 million in funding assistance would be needed.
Anticipating the challenges ahead of legislators as they work to balance the 2015-17 biennium budget during the 2015 session, it's going to be a tough battle for everyone. The biggest priorities on the table are education, mental health services and the voter-approved class size reduction initiative.
Still, Lillard and Jensen urged attendees last week to reach out to their legislators, and to ask them to fight for increased funding for the film incentives.
"We know it's made a difference in employment," she adds. "We're committed to being transparent, and $24.3 million — is that feasible? I don't know."