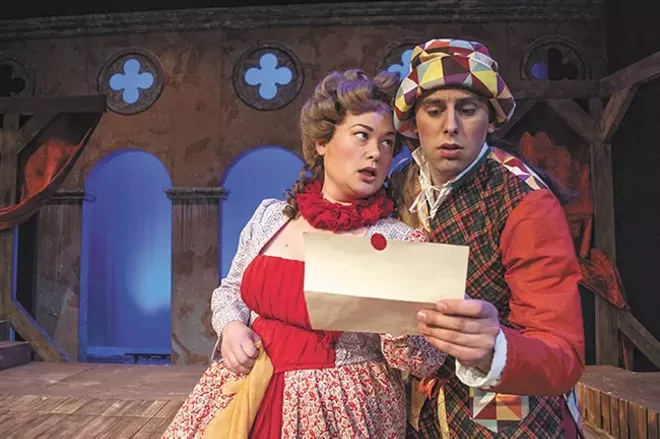 The arts should be accessible to everyone, which is why the Spokane Civic Theatre is debuting a new, budget-friendly preview night ahead of its next production, The Servant of Two Masters.
Though opening night is officially this Friday, the public can catch a preview performance tonight, paying what they can afford at the box office.
Suggested entry is $5 per person, and seating availability in the 335-seat main stage theater is on a first come, first served basis, says the Civic's marketing coordinator Miranda Larson.
Doors tonight open at 6:30 pm, with seating starting at 7 before the curtain rises at 7:30 pm. Thursdays typically serve as a production's final dress rehearsal, with the previous night designated as "friends and family night" for the cast and crew members.
The idea to open up the Thursday night rehearsal came from the Civic's artistic director, Keith Dixon, whose former theater, Theatre Baton Rouge, offered a similar program.
"It helps with accessibility to the community theater because some people can't afford it," Larson says. "We're doing it for every production [going forward] to let people who otherwise wouldn't be able to come. We want the community to be a part of local theater."
Though the suggested entry is $5, Larson says those attending can pay more or less, depending on what they're comfortable giving.
For the Civic's next Studio Theatre production, Orphans, pay-what-you-can night is set for Thursday, Jan. 29, a week from today.
While the new preview night is open to the general public, the Civic has for some time been offering student rush tickets when a production on the main stage has at least 30 open seats, or there's at least 10 seats in the studio theater. Rush tickets are generally half of what regular student pricing is, but tickets at that rate are only sold 30 minutes before the performance, and only when the minimum number of seats are available. For Servants, rush night tickets are $9.