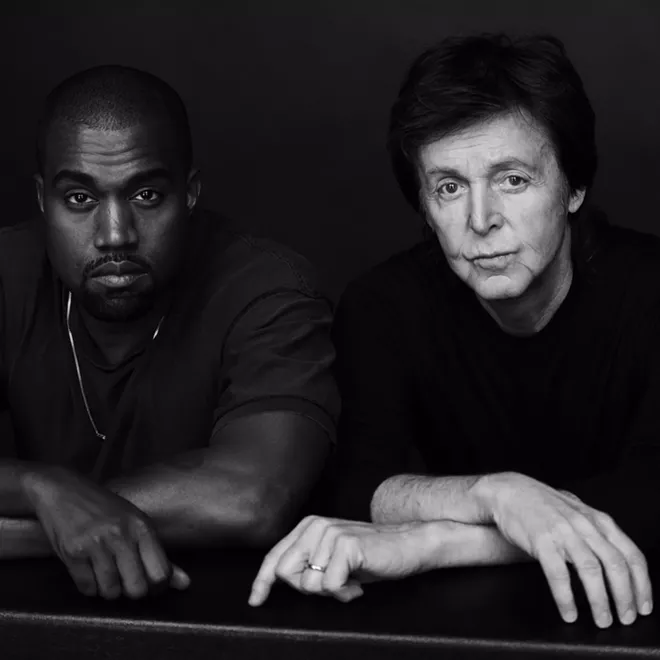 Somewhere in the middle of the frustrating gray area between art and commerce rests the Grammys, a hot mess of 13
,000 or so faceless voters
and Powers That Be, perplexingly comfortable in the median of pop culture. Without fail, whenever we critics attempt to actively reject their potential relevance forever (in response to, say, Macklemore blasphemously winning against Kendrick Lamar, Drake, and Kanye West last year), something always manages to pull us right back in (see: 21-time Grammy winner West's decision to return to the Grammys stage this year after a six-year absence).
But what will it take to actually make the Grammys matter to both critics
and
pop fans?
Can a few potentially great performances really make up for a long series of actions by those Powers That Be attempting to convince us that Herbie Hancock actually made the best album of 2007, or that West's
My Beautiful Dark Twisted Fantasy
wasn't — hands down — the most exciting and subversively skilled release of 2010? Well, no. But a great performance can certainly ease the pain.
Remember West's thrilling performance of "Stronger" in 2008?
People still watch and still care, judging by the TV ratings. Last year's broadcast brought in a far from underwhelming 28.5 million viewers, up slightly from the previous year's 28.3 million viewers.
But what's the worth here?
Any music fan worth their critical salt is at least some sort of excited about this year's Paul McCartney/Kanye West/Rihanna performance (and West's recently announced solo performance), but what does that say about the Grammys when people are the most excited about a performance that has absolutely no bearings on (or relation to) the current year's nominees and possible winners? Their collaboration, "
Four Five Seconds
," though certainly a viable nominee for next year, was released well outside the window of 2015 Grammy eligibility.
Culture now moves at breakneck speeds, and it has for quite some time. When your fingers are on the keyboard typing frantically in 140 characters or less about why Jaden Smith is somehow both playfully poetic and cerebrally awesome, your hands are on the pulse of culture — a position the Grammys only occasionally stumbles into out of sheer happenstance.
Assisting with that stumble toward relevance, this year's broadcast does offer some promising inclusions.
Though sadly not performing, Childish Gambino did manage to receive two nods for his stellar 2013 album
Because the Internet
, featuring the closest thing to an existential crisis on Top 40 radio we'll probably ever hear — the ubiquitous single "3005."
Recent Shia LaBeouf collaborator Sia is nominated for her triumphant alcoholism-centered anti-ballad "Chandelier" and is set to perform. Her recent
SNL
appearance served as another fascinating chapter in the visual experience associated with Sia's work.
But, as always, there are also many startling exclusions — namely the baffling lack of a Rap Album of the Year nomination for YG's expansive
My Krazy Life
(made more baffling by the tragic appearance of Iggy Azalea's
The New Classic
in the same category).
A fervent harbinger of good taste and indisputably one of its foremost soldiers, Kanye West (and a small but capable army of other creatives) certainly help carry the burden of the raised palette. And though I'm not so sure that's enough to keep the Grammys permanently removed from increasingly detrimental remissions in the future, I'll certainly be tweeting and watching — one hand on the pulse of culture and the other hand ready to mute Iggy Azalea.
May Yeezus save us all.
The Grammys air on CBS at 5 pm on Sunday.